Posted on
Tue, Feb 8, 2011 : 9:34 a.m.
Michigan hockey coach Red Berenson trying to piece things together, Bryan Hogan is healthy and more notes
By Jeff Arnold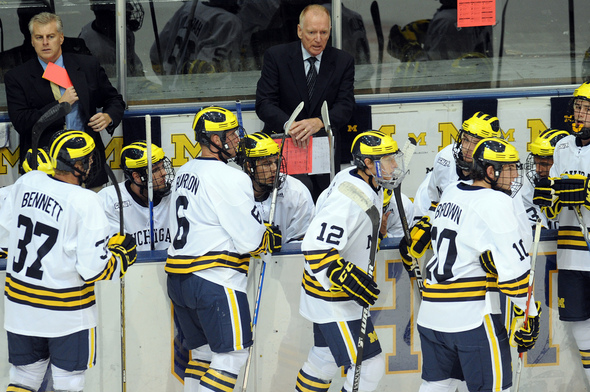 AnnArbor.com file photo
Think of the Michigan hockey team as a complicated puzzle.
With so many pieces to work with, fitting them together to form a complete picture can be a long and tedious process. So with the Wolverines in the midst of a three-game losing streak, coach Red Berenson figured it was time to extract some pieces from one spot and try to lock them into another.
How the picture will look by the end of a critical home weekend series against Ohio State (7:35 p.m. Friday and Saturday, Big Ten Network), however, remains in question.
The No. 13-ranked Wolverines are adjusting after being swept for the first time this season. A weekend that started with so much promise and the possibility of creating distance between themselves and the other CCHA championship contenders ended in disappointment.
"This team has to play with desperation and intensity," Berenson said Monday. "We're not good enough to go out and beat anybody without our absolute best two-way game."
Michigan (17-9-4, 14-7-1 CCHA) fell into third place with back-to-back losses to now first-place Miami. The Wolverines managed just two goals over the weekend and have been limited to three goals in the last three games.
Berenson shook up how his team looks on the ice, making changes to all four of the Wolverines lines. The combinations now look like this for the weekend series against the Buckeyes.
Carl Hagelin Louie Caporusso Chris Brown
Scooter Vaughan Matt Rust Luke Glendening
David Wohlberg A.J. Treais Luke Moffatt
Ben Winnett Kevin Lynch Derek DeBlois
Berenson said the moves were made not only to try and spark some scoring, but to try and get some players to compete better without the puck. But Berenson also knows that shifting players around can be a motivational ploy to try and draw the best out of players he needs to see more from in the six remaining regular-season games.
"It's a puzzle and sometimes, you don't know if you are going to get results," Berenson said. "Sometimes, change is a wake-up call and there has to be a little bit of a sense of urgency. I think (change) is a kick in the head sometimes and sometimes, it's a sign of encouragement - you're rewarded.
"Some guys get moved up and they're not playing that well and you're trying to get them going. Some guys get moved down and you're trying to get others going."
Crunch time
Michigan is two points removed from the league's top spot and remain in position to clinch their 21st consecutive NCAA Tournament appearance.
The Wolverines trail second-place Notre Dame by a point but wasted the two games in hand they had on the Irish.
Three losses in a row can be a good motivator.
"I still think we have a good chance," senior captain Carl Hagelin said Monday. "We have to pick it up and we know where the other teams are, but it's up to us now. Losing sometimes is good for you because sometimes, you need to take a step back to take two steps forward."
Senior Matt Rust, one of those struggling most to score, said he could sense Michigan struggling in several areas. Those issues have snowballed into the current three-game losing streak that came on the heels of a five-game winning streak.
"This was a long time coming," Rust said. "I think it really hit us (after the sweep at Miami) that we've got to change the way we practice and bump up our intensity level."
Ready to go
Berenson said Monday that senior goalie Bryan Hogan is healthy enough to return to the line-up. Whether Hogan does, though, remains a question mark. Hogan hasn't played since November after tearing a groin muscle in warm-ups for The Big Chill at the Big House. Prior to the injury, Hogan had a 7-2 record and appeared to have the edge on Shawn Hunwick for the full-time starting job.
Hunwick has been solid since then, and remains the Wolverines' No. 1 goalie. But if necessary, Berenson said Hogan could be inserted into the lineup. Berenson said he never considered making a change in Saturday's 3-0 loss to Miami after Hunwick gave up three goals in the first 40 minutes.
"You would like to see him play," Berenson said. "It's fine to say he's ready to play health-wise, but to get him up to speed in a game, you'd like to see him get some playing time before you start starting him."
Jeff Arnold covers Michigan hockey for AnnArbor.com and can be reached at (734) 623-2554 or by e-mail at jeffarnold@annarbor.com. Follow him on Twitter @jeffreyparnold.