Posted on
Wed, Mar 31, 2010 : 1:47 p.m.
Michigan hockey coach Red Berenson wants answers regarding controversial overtime call
By Jeff Arnold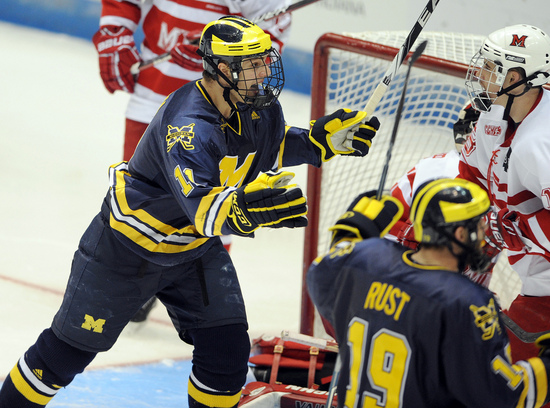 Michigan hockey coach Red Berenson is still searching for answers on why an apparent game-winning goal that would have sent the Wolverines to next weekend's Frozen Four in Detroit was disallowed.
Berenson said Wednesday he will work with university athletic department officials to get a formal explanation from the NCAA regarding Kevin Lynch's overtime goal in a 3-2 NCAA Midwest regional championship loss to Miami (Ohio).
Berenson said he knows of no formal process in NCAA hockey that allows him to request a review after Sunday's night's heart-breaking double-overtime loss. 
"It's really frustrating," said Berenson, who said he didn't see a decent television replay of the controversial no-goal until the Wolverines returned from Fort Wayne, Ind., at 3 a.m. Monday morning. "I never got a clear answer about why the goal didn't count or if there was any room being made for human error ... and that's what we're trying to find out."
Berenson would not say how many time he's reviewed replay, but believes it's clear that the officiating crew that also worked Michigan's semifinal victory over Bemidji State didn't get the call right.
"I saw what I saw and I know what I know," Berenson said. "I think it's pretty obvious."
After Michigan and No. 1 Miami finished regulation tied at 2, Lynch found a loose puck in the crease after RedHawks' goalie Connor Knapp tried to cover a Carl Hagelin wrap-around shot. Video replays show Knapp never gained control of the puck, which Lynch pushed into the back of the net.
"I was just trying to dig the puck out," Lynch said Sunday night. "Carl made a nice play behind the net and threw (the puck) out front and it slid between the goalie's legs and I just dug it out and shot it into the back of the net.
"I don't know why they blew the whistle or why the goal wasn't allowed. I thought it should have gone in."
A split-second before, though, the referee blew his whistle in order to assess a Miami penalty, NCAA Director of officials Steve Piotrowski told AnnArbor.com immediately after the play was reviewed. Because Miami didn't gain control of the puck and the puck never stopped moving, Berenson maintains play should have continued considering the upcoming penalty was against the RedHawks.
Game officials reviewed the play, but determined that the whistle blew the play dead before Knapp pushed the puck into the back of the net. Michigan failed to score in the first overtime despite out-shooting Miami 20-6 in the 20-minute period.
The RedHawks, who will face Boston College in one of two national semifinals at Ford Field, ended the game with a goal 1:54 into the second overtime.
Berenson said Sunday and again Wednesday he never received formal word on what officials saw - either during play or during the review process. Although an official explanation wouldn't change the game's outcome, Berenson - who called the request for review "sour grapes on our part" - said he would request an explanation to protect the integrity of the game and to prevent such an incident from happening again in the future.
"In a game of that magnitude and with a goal of that magnitude, we should know what happened," Berenson said. "You're dealing with a program and a school and a team of players that should be going to the Frozen Four, but that's not.
"Am I discouraged? I am alarmed at what happened? Yes. But I just want what's right."
NOTES: Berenson is meeting with individual players Wednesday and Thursday as part of the annual end-of-the-season review he conducts. He said on his radio show Tuesday night that he'll begin to put together a spring plan to prepare for next season next week. 
Asked if he planned to return next season, Berenson - who operates on a 1-year rollover contract - said he'll meet with athletic department officials soon but that "he wasn't leaning toward not coming back" next season. ...
Senior defenseman Steve Kampfer will miss this weekend's team banquet after reporting to the Boston Bruins' Providence, R.I. minor league affiliate Tuesday night, Berenson said Tuesday night.
Kampfer, a Jackson native, was originally drafted in the 2007 NHL Entry Draft by the Anaheim Ducks and was traded to Boston on March 2 for a conditional fourth round pick in the 2010 or 2011 Draft.
Jeff Arnold covers Michigan hockey for AnnArbor.com. He can be reached at jeffarnold@annarbor.com or 734-623-2554. Follow him at Twitter @jeffreyparnold.