Posted on
Fri, Jan 25, 2013 : 11:20 p.m.
Michigan hockey falls to Western Michigan, 3-2, for first loss in Kalamazoo since 2003
By MLive Media Group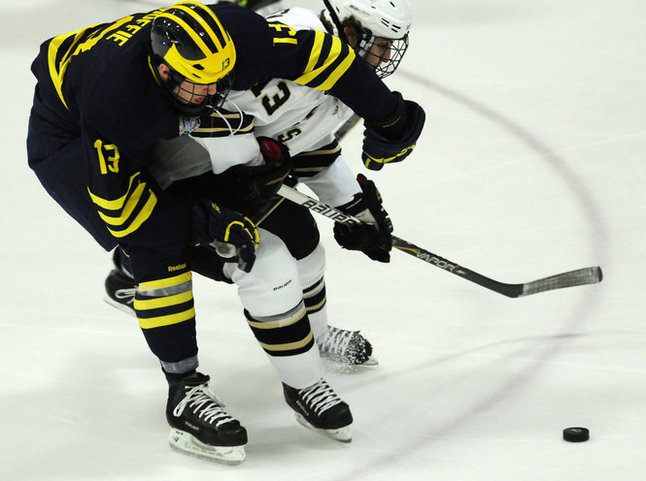 Matt Gade | Mlive Media Group
By David Drew
Western Michigan University had no answer for Michigan in the first 10 minutes of Friday's hockey game at Lawson Arena.
The Wolverines came out charging and took a 2-0 lead six minutes into the game, but WMU settled in and battled back to collect a 3-2 win in the Central Collegiate Hockey Association matchup.
It is Western Michigan's first win at Lawson Arena over Michigan since 2003.
Related content: WMU takes another step forward with comeback win over Michigan
Michigan nearly scored 40 seconds into the game on a 3-on-2 breakaway, but WMU goalie Frank Slubowski was able to stop the chance.
Phil Di Giuseppe did light the lamp 4:10 into the game for the Wolverines. WMU's Chase Balisy, attempting to dump the puck into U-M's zone to get a line change, turned the puck over and Di Giuseppe took a good feed on a 2-on-1 rush and scored it.
Alex Guptill gave Michigan a 2-0 lead 5:56 into the opening period when he took a feed from behind WMU's net and fired in the puck before Slubowski could recover.
Michigan's size was a clear advantage early in the game, but the Broncos eventually countered with their speed.
Senior Trevor Elias cut the deficit in half for Western Michigan 11:01 into the first when senior defenseman Luke Witkowski stole a Michigan pass in the neutral zone and fed it ahead to Will Kessel who then made a nice pass on the rush to Elias, who found the back of the net.
The Broncos tied the score at two goals apiece with 1:01 left in the first period when defenseman Jordan Oesterle sent in a shot from the blue line that found its way under the stick of Michigan goalie Adam Janecyk.
Michigan had a 12-5 advantage in shots in the first period, but the Broncos outshot the Wolverines 15-8 in the second.
Freshman Colton Hargrove gave the Broncos a 3-2 lead 16:01 into the second period when Justin Kovacs sent in a centering pass to a crashing Hargrove, who stuffed the puck past Janecyk.
WMU's defense stood tall in the third period as Michigan had a handful of chances.
U-M pulled Janecyk to bring on the extra attacker with 1:35 left in the game, but the Wolverines could not convert.
The Broncos and the Wolverines will face off again on Saturday in Kalamazoo.