Posted on
Fri, Jan 18, 2013 : 5:30 a.m.
Michigan hockey fan Mike Nicholls to attend 400th consecutive game this weekend
By Kyle Austin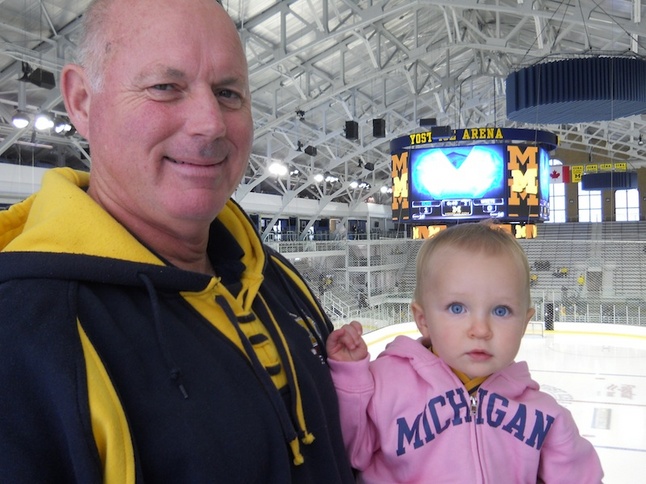 Courtesy photo
It's a streak that's spanned nearly nine years and led one Michigan hockey fan from one corner of the United States to the other.
And Friday, it's about to hit another milestone.
Mike Nicholls, an Allen Park resident and 15-year season ticket holder at Yost Ice Arena, will attend his 400th straight Michigan hockey game when the Wolverines travel to play at Lake Superior State Friday. The streak includes 18 exhibition contests.
"It's been a wonderful experience," Nicholls said. "I enjoy every game I've been to."
Nicholls, a retired General Motors worker who currently captains a boat for Diamond Jack River Cruises in Detroit, decided in 2004 that he wanted to visit every CCHA rink with his children. So starting with a Jan. 23 game at Western Michigan that year, he started attending every road game as well as home game
By the time he had crossed off his last CCHA arena, Miami's Goggin Ice Arena in December, 2005, he had gone to 80 consecutive games.
The Wolverines played 17 of their next 18 games in Michigan, with the other coming at Bowling Green. He'd come this far, so why not keep the streak alive, he thought. So Nicholls went to see the Wolverines play at the University of Nebraska, Omaha in Feb. 2006 for his 100th game, and hasn't stopped going to games since.
"I've just kept going and going," Nicholls said. "It's been a blast, really. It's been fun."
His travels have now included six trips to Alaska, four trips to Omaha, Neb., two trips to Manchester, N.H., along with numerous other destinations.
The streak has been meticulously logged in a spreadsheet Nicholls keeps. It includes each game attended, the outcome of the game, and the team's record throughout his streak. Nicholls has also diligently tracked the number of miles he's traveled to watch the Wolverines. This weekend, he'll top 130,000 miles traveled.
His favorite trips have been the two Frozen Fours during his streak, in 2008 and 2011. But there hasn't been a game he hasn't enjoyed, he said.
"Just every game, watching them play as hard as they can," Nicholls said. "You love them.
There's no goal in mind for how long the streak will continue, but Nicholls knows the move from the CCHA to the Big Ten next season will bring plenty more travel. The Big Ten schedule calls for annual trips to Minnesota, Penn State and Wisconsin. He isn't sure if he wants to do that much driving every year.
But in a bit of irony, the streak may be conversely tied to the postseason fate of this year's team. Nicholl's has a vacation to Florida scheduled for March 29. That's the same day as the opening of the NCAA Regionals in Grand Rapids.
Michigan has made the tournament in each of the last 22 years. But with the Wolverines at 7-13-2 (4-10-2-2 CCHA) and in the basement of the league standings an NCAA tournament bid is looking increasingly unlikely, which would mean the streak might continue unbroken into next season.
"It may go on," Nicholls said.
Wolverines hit the road
If the Wolverines are to turn around this season and make a run at the NCAA tournament, it will have to do so away from home.
Nine of Michigan's next 10 games are away from Yost Ice Arena, starting with this weekend's series at Lake Superior State and next weekend's at Western Michigan.
Michigan is 0-3-2 in road games this year and 1-2 in neutral site games.
"We have to turn it around, and we haven't done it at home," Michigan coach Red Berenson said. "If we're going to make any sort of run in the second half, it's going to start on the road.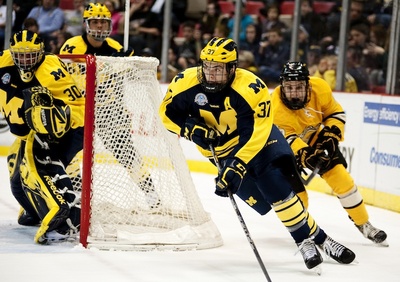 Daniel Brenner | AnnArbor.com file photo
"We haven't proven anything at home, and we haven't proven anything in our earlier road games."
And with a three-game losing streak, Michigan is willing to try anything to change their momentum.
"You're going on the road with not many fans in your favor and all you've got is your buddies on the team," Wolverines captain A.J. Treais said. "Maybe that can change momentum.
Michigan heads into the weekend with plenty of questions in player availability. Defensemen Brennan Serville and Mike Chaisson are both questionable for the weekend, as is forward Kevin Lynch.
The only player ruled out for the weekend is defenseman Mac Bennett, who already sat out last weekend's series against Alaska after being injured against Bowling Green. Berenson said he expects Bennett out three to six weeks.
Kyle Austin covers sports for AnnArbor.com. He can be reached at kyleaustin@annarbor.com or 734-623-2535. Follow him on Twitter @KAustin_AA.