Posted on
Mon, Feb 25, 2013 : 6:41 p.m.
Michigan hockey forward Alex Guptill named CCHA offensive player of the week
By Pete Cunningham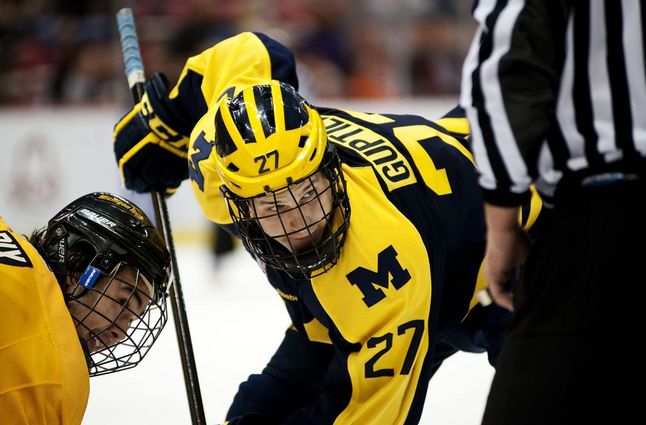 Daniel Brenner | AnnArbor.com file photo
Alex Guptill
helped the Michigan hockey team pick up just its second series sweep of the season on Saturday. On Monday he was rewarded with the team's first CCHA offenisve player of the week award, the league announced on Monday.
Guptill had three goals and an assist against Ohio State over the weekend, including the game-winning goal in the third period of Michigan's 6-3 win over Ohio State on Saturday. Guptill also had an assist in Saturday's win and scored two goals in Michigan's 5-3 win on Friday.
Guptill's four point weekend puts him at 23 points on the year, tied for second on the team. He and A.J. Treais are tied for the team lead in goals scored with 11.
Michigan (12-18-2, 8-15-2-2 CCHA) will conclude the regular season over the weekend at Yost Ice Arena, hosting Ferris State on Friday and Saturday. Both games will begin at 7:3 p.m. with Friday's game appearing on CBS College Sports Network and Saturday's senior night game scheduled to be aired on Fox Sports Detroit.
Pete Cunningham covers sports for AnnArbor.com. He can be reached at petercunningham@annarbor.com. Follow him on Twitter @petcunningham.