Posted on
Fri, Dec 28, 2012 : 5:53 a.m.
Michigan hockey hoping GLI can provide jumpstart to second half of season
By Kyle Austin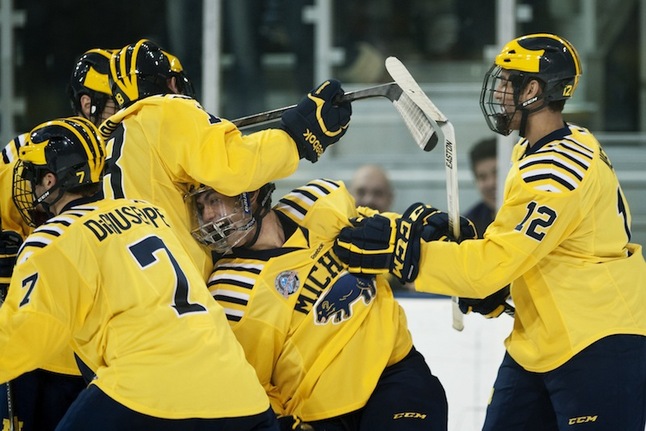 Daniel Brenner | AnnArbor.com
The first half of the season didn't contain many highlights for the Michigan hockey team, but the postgame locker room of its final game over Western,
a 2-0 win
, was one of them.
"They were really excited," Michigan coach Red Berenson said Thursday. "That was the first time they really sensed that if they put it on the line, they could have a good feeling in there."
Two weeks later, the Wolverines are hoping the magic will still be there.
Michigan's return to the ice will be Saturday against Michigan Tech at Joe Louis Arena in the first round of the Great Lakes Invitational (7 p.m., Fox Sports Detroit). Michigan State and Western Michigan play in the other semifinal. The tournament final and consolation games will be Sunday
"You don't really know what you're going to get when you come back," Berenson said. "We're trying to get ramped up and ready, but as far as any game momentum, whether we can even resemble the team that played last Saturday against Western, that's the challenge."
The Wolverines enter the tournament looking for their third straight GLI win and their fifth in six years.
They also enter it looking for a jumpstart to the second half, something the tournament provided last year. After a sub-.500 first half last year, a GLI win sent Michigan on a 12-3-1 finish to the regular season.
This year, Michigan enters after a 6-9-2 first half, knowing it needs an improved second half to extend its NCAA tournament streak.
"It's huge," Wolverines captain A.J. Treais said. "You're going into a tournament of this caliber, it's going to pick up your team, and kickstart your team. Going into a big tournament like this, it can definitely do the same this year."
Michigan's recent GLI success has often come with players missing from the lineup, and this year will be no different.
Freshman defenseman Jacob Trouba will miss the tournament while playing in the world junior championships in Ufa, Russia, where he scored a goal in Team USA's 8-0 win over Germany Thursday in the tournament opener.
Another defenseman, Jon Merrill, will miss the GLI but could return soon after. Merrill missed the first half of the season with a cracked vertebrae in his neck, but returned to practice this week, with limited contact.
Berenson said Merrill has a doctor's appointment Jan. 2, and could return to action as soon as Jan. 8 if the news is good.
The Wolverine's other lineup question mark comes at goaltender. After freshman Jared Rutledge and Steve Racine both struggled in the first half, junior Adam Janecyk made his first start of the year against Western and recorded a shutout. A goaltender decision for Saturday won't be made until Friday or Saturday, Berenson said.
Berenson said then that for Janecyk to earn another start, he would need to see strong practices following the break.
"He's trying to get back in the groove," Berenson said. "I'm hoping to see something special tomorrow."
Berenson said the approach over break this year wasn't different from other years -- taking what was learned about the team and trying to improve on it.
And while a GLI win isn't as significant as a CCHA or NCAA tournament trophy, it would be a step in the right direction after a tough first half.
"It's something," Berenson said. "It's a lot more than anything they've done this year."
Kyle Austin covers sports for AnnArbor.com. He can be reached at kyleaustin@annarbor.com or 734-623-2535. Follow him on Twitter @KAustin_AA.