Posted on
Fri, Nov 2, 2012 : 5:30 a.m.
Michigan hockey looks to avoid early season swoon as it hits road for the first time
By Kyle Austin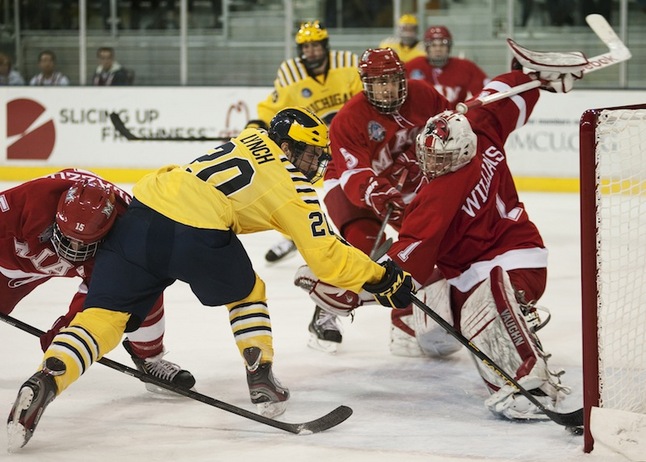 Daniel Brenner | AnnArbor.com
Michigan's 4-3 loss to Miami (OH) Saturday night at home may have come in the team's league opening series, but coach Red Berenson wasn't mincing his words about what it meant in the big picture.
The game was a "must-win", and losing it was "not acceptable."
"These games are huge," Berenson said. "We split these games at home, and you can't do that."
Berenson expanded on that Tuesday: Eleven of his team's of first 16 league games are at home. Only three of the last 12 are at Yost.
Winning early league home games are crucial.
"You look at our home games in the first half of the year, and we've got a lot more home games than road games," Berenson said. "You've got to take advantage of those games. That's why I was so disappointed after that Saturday game. We've got to take advantage of those, and then you've got to hold your own on the road, too."
Last season, Michigan started 3-6-2-1 in league play, winning just four of its first 12 CCHA games. The Wolverines won 12 of 17 to finish second overall in the league.
While Berenson said he doesn't talk about staying out of an early season hole, he does talk about winning home games and being able to "hold your own" on the road.
This weekend counts as the latter, with Michigan playing a series in Northern Michigan Friday and Saturday.
It will mark the team's first road trip of the year.
"It definitely builds some sort of bond, just being around the guys for the whole weekend, not just during the game but dinner, breakfast and everything," sophomore forward Travis Lynch said. "It should be good."
In Marquette, the Wolverines (3-2-0, 1-1-0-0 CCHA) will be playing on Olympic-sized ice -- a proposition that gives offenses an extra 15 feet of width to enter the zone.
"The defensemen have to pick their spots and really play their positions well," Berenson said.
That presents an added challenge for a team that has at times struggled to keep the puck out of the net, like when it gave up three third-period goals in Saturday's loss.
Both of Michigan's freshmen goalies, Jared Rutledge and Steve Racine, started a game last week, with Racine earning the win Friday and Rutledge the loss Saturday. Berenson hasn't revealed any goaltender plans for the weekend.
The team could also be without defenseman Brennan Serville, who is day-to-day with with Berenson termed a "facial concussion" suffered Saturday. He didn't skate Tuesday, but Berenson said he was improving.
If Serville's held out, he would be the third defenseman to miss time in the first month of the season, joining Kevin Clare and Jon Merrill.
Defenseman Mike Chiasson said the constant switching of lineups hasn't hampered the team.
"It's kind of nice, we get a lot of familiarity with each other, and we're a close group back there," Chiasson said. "It just comes down to communication and just a lot of hard work in practice."
Northern Michigan (3-3, 0-2-0-0) was swept at home by Notre Dame last weekend, but Berenson was quick to point out that the Wildcats also swept Wisconsin in Green Bay earlier this season.
"They've played good teams and done well," Berenson said. "...I think they're better than their record."
Kyle Austin covers sports for AnnArbor.com. He can be reached at kyleaustin@annarbor.com or 734-623-2535. Follow him on Twitter @KAustin_AA.