Posted on
Wed, Nov 28, 2012 : 1:07 p.m.
Michigan hockey looks to break out of familiar November slump with four games left in first half
By Kyle Austin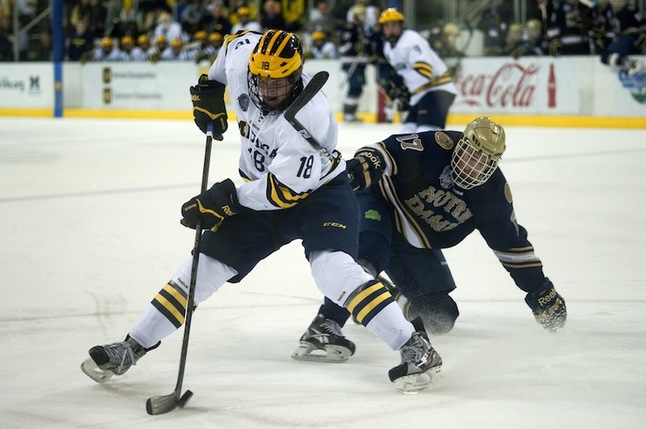 Joseph Tobianski | AnnArbor.com
The November doldrums have become an all-too-familiar phenomenon for the Michigan hockey team.
After a 5-1 loss to Cornell Saturday night at Madison Square Garden, the Wolverines' record this month fell to 2-5-1, with one game left before December.
Including 2012, the Wolverines have had losing November records in three of the last four seasons, going a combined 10-19-3. That included a 1-6-1 mark in the month last year.
"Last year we hit a pretty big lull in November, and we're definitely in that right now," junior forward Derek DeBlois said. "You don't want to say we're going to get in a big slump like this every year, but you're going to hit times where everything's not working for you. I think that's right now."
The Wolverines have two more CCHA series, this weekend at defending national runner-up Ferris State and Dec. 14-15 at home against Western Michigan, before hitting the midway point of the season. The Bulldogs are tied for second in the CCHA standings, while Western is tied with Michigan in seventh.
Michigan goes into the final stretch of the first half hoping it can mark the beginning of a resurgence. Last season, December started a comeback in which Michigan finished with 14 wins in 19 games to take second place in the final league standings.
But this year's start is more worrisome. Last year's team went 6-1-1 in October before hitting its lull. This year, the Wolverine's got off on the wrong foot, with a 3-2 mark in October, and it's only gone downhill from there.
"This has been ongoing since game one," coach Red Berenson said. "We didn't have a good start. We've never really put anything together. We've never had a Monday where we looked back and said we played two really good games."
Berenson said he recently reviewed statistics from the first ten games of this season and last season. He found similar offensive numbers in each, as well as shots against. The key difference has been in goals against, as Michigan's tandem of freshman goaltenders, Jared Rutledge and Steve Racine, both have struggled.
Racine has a 2.94 goals against average in 10 games, and Rutledge has given up 4.46 goals in five games.
But Berenson isn't putting the blame for the slow start on one or two players.
"Right now, it's hard to find more than a handful of guys that are really giving us a good chance every night," Berenson said. "We need a lot more than that."
And for now, the Wolverines are hoping for a strong finish to the first half, so they team will still have a chance at a second-half comeback.
"We need more urgency right now," Berenson said. "Or the second half we'll be way far behind."
New Recruits
Michigan announced this week that seven players have signed letters of intent to play for the Wolverines starting in 2013-14. The list includes five forwards, Evan Allen, Bryson Cianfrone, J.T. Compher, Alex Kile and Tyler Motte, along with defensemen Nolan De Jong and Michael Downing.
Compher, currently playing with USA Hockey's National Team Development Program in Ann Arbor, is the top-rated USHL skater eligible for the 2013 NHL Draft, according to NHL Central Scouting.
Motte is 12th on that list and Allen is 19. Both are also currently playing for the NTDP.
Four of the players are Michigan natives, Allen (Sterling Heights), Kile (Troy), Motte (St. Clair) and Downing (Canton).
Kyle Austin covers sports for AnnArbor.com. He can be reached at kyleaustin@annarbor.com or 734-623-2535. Follow him on Twitter @KAustin_AA.