Posted on
Sat, Mar 2, 2013 : 10:16 p.m.
Michigan hockey tops Ferris State in shootout to end regular season, will start CCHA tournament at home
By Kyle Austin
Updated at 11:30 p.m.
The Michigan hockey team will be fighting to preserve its 22-year NCAA tournament streak when the CCHA playoffs start next week.
And after a 1-1 tie and shootout win over Ferris State Saturday night at Yost Ice Arena, it will start the tournament at home, while riding its longest winning streak of the season.
The Wolverines won their fourth straight game and swept the fifth-place Bulldogs to end the season on a four-game winning streak. Senior captain A.J. Treais scored in the first round of the shootout, and Wolverines freshman goaltender Steve Racine stopped all three Bulldogs shooters.
The Wolverines end the season at 13-18-3, in seventh place in the CCHA. They will open a three-game first-round playoff series Friday against Northern Michigan. Had Michigan lost in regulation or overtime, it would have started the postseason on the road.
And just like they did three years ago, when Michigan wrapped up an unlikely NCAA tournament bid with a CCHA Tournament championship, the Wolverines know that it will take a tournament win to keep the hallowed streak intact.
"I don't think any person in that locker room has any doubts that we can go on a run or that we can keep winning and keep playing Michigan hockey," Michigan forward Kevin Lynch said. "Everyone believes in that locker room that we can do things that a lot of people probably think we can't do."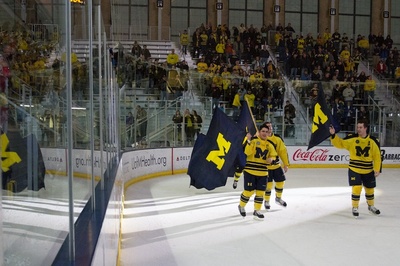 Andrew Kuhn | For AnnArbor.com
On senior night, it was Treais, who hasn't scored a goal since Jan. 19, who gave the Wolverines the one extra point they needed to move up to seventh place.
"I'm not going to lie, it's been a while since I put a puck in the back of the net, and even though it doesn't count, I can still feel that as a goal," Treais said.
Lynch got Michigan on the board eight minutes into the game, when he took a pass from Andrew Copp and tucked a shot into the top corner of the net, over the shoulder of Ferris State goaltender CJ Motte.
After making several standout saves on a first-minute Ferris State power play chance, Racine let up a goal on a deflection in front midway through the second period.
But from there he was lights out, making a pair of standout saves with 11 minutes left in the third, one on a breakaway and the other seconds later on a back-door chance, to preserve the tie before the game went to overtime.
"All year we've been complaining about our goals against, and I think it's pretty clear tonight that our goalie won us the game," Michigan coach Red Berenson said.
In overtime, after the Wolverines couldn't capitalize on an empty net opportunity in the final minute, Racine stopped a breakaway chance from Ferris State's Travis Ouellette with 10 seconds left to send the game to a shootout.
The Bulldogs pulled their goalie early, needing the three points of an overtime win to move into position to get home ice advantage.
Racine earned first-star honors after giving up one goal for the second straight game while making 24 saves.
After cycling through three goalies most of the year, Michigan has finally found its hot hand just before the playoffs. Racine has now backstopped Michigan to consecutive series sweeps.
"I was playing a lot in the beginning of the year, and once that kind of goes away you notice that you maybe took it for granted a little bit," Racine said. "I just tried to work hard and get back in there and make the most of my opportunity."
The four-game win streak to end the regular season gives Michigan a dichotomy heading into the postseason. It's still a seventh-place team with an uphill climb to an NCAA berth-clinching CCHA tournament win.
But it's also a team with a hot riding a hot goalie and a CCHA-high four-game winning streak heading into the tournament.
"I still think we're a team that has something to prove," Berenson said. Let's face it, you can't forget about the 30 games we played before the last four. But nevertheless, I like our team, I think we have a chance to be a team that moves forward."
Kyle Austin covers sports for AnnArbor.com. He can be reached at kyleaustin@annarbor.com or 734-623-2535. Follow him on Twitter @KAustin_AA.