Posted on
Thu, Dec 30, 2010 : 6 a.m.
Michigan hockey players Chris Brown, Jon Merrill savoring experience defending United States' junior world title
By Jeff Arnold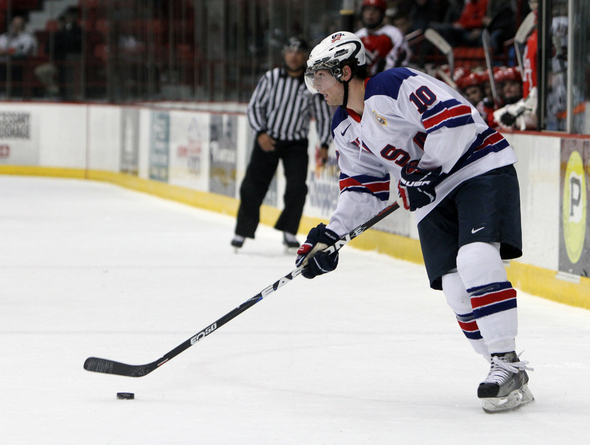 Photo courtesy of Sara Melikian, RPI
Chris Brown arrived in Buffalo, N.Y., almost two weeks ago, determined to prove he deserved a roster spot with the United States' U-20 world junior hockey team.
The Michigan sophomore forward was in an identical position a year ago, when he was the last player cut from a team that stunned Canada to capture the International Ice Hockey Federation world title.
While he was thrilled for his friends that were part of the gold medal celebration, the fact Brown wasn't part of it pushed him to improve. Now, not only is Brown part of the U.S. team that is 2-0 in its title defense this week in Buffalo, but he - along with Michigan teammate Jon Merrill -Â  has played a part in the Americans' strong start.
Brown scored a goal and Merrill had an assist in the United States' 6-1 win over Slovakia Tuesday night. The Americans face Germany on Thursday (7 p.m., NHL Network) and Switzerland Friday (8 p.m.) as tournament play continues before the medal round begins this weekend.
"It took a lot of passion and a lot of pride in making this team," Brown said in a phone interview from Buffalo on Wednesday. "There's a lot of pride in putting that jersey on and representing my country the way I need to.
"But to represent your country (while playing) in your home country is a great feeling, and I know we're going to do whatever it takes to win that gold medal and keep that trophy within USA hockey."
Brown is part of a talented pool of forwards that includes long-time friends Kyle Palmieri and Jeremy Morin.
Both players have spent time in the NHL this season - Palmieri with the Anaheim Ducks and Morin with the Chicago Blackhawks - providing Brown with a glimpse of what life after his career with the Wolverines could be like.
"To have that experience under their belt and telling us stories or giving us little tips they've picked up from veteran guys is just awesome," Brown said. "From them to bring that caliber of play and that upbeat tempo into the locker room and onto the ice every night, it really drives us players that are still in college and who are hoping and dreaming of getting to the NHL to push harder and to keep up with them and play at the level they've been playing at."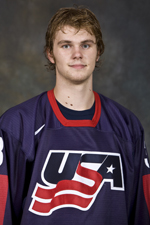 For Merrill, a freshman defenseman at Michigan, the experience being part of such a talent-rich roster has been similar. Merrill watched the U.S. beat Canada in last year's championship game in Saskatchewan and has, along with Brown, provided a physical presence on this year's team.
"We've had some success, we're 2-0 and so I can't complain," Merrill said Wednesday. "I watched (the world juniors) last year and so I had those expectations, but it's nothing really out of the ordinary. I just wanted to come and have fun and, hopefully, win.
"I think the town (of Buffalo) is excited, and I think everyone is excited about hopefully repeating. But we're just trying to stay focused and worry about what's in front of you day to day."
The United States is in first place in Group A, one point ahead of Finland. The U.S. knocked off the Fins to begin tournament play. But with two pool games remaining before the medal round begins, Brown acknowledged that it's difficult not to look ahead to a possible rematch with Canada.
"We know they are probably our greatest rival in the tournament and we know they have great players," Brown said. "We know people want to see us go head-to-head because it's going to be a good game, it's going to be a physical game, but at the same time, we have to take it step by step. We can't just focus on playing them - we know there are other countries we have to face first before we can even get to them."
Jeff Arnold covers Michigan hockey for AnnArbor.com and can be reached at (734) 623-2554 or by e-mail at jeffarnold@annarbor.com. Follow him on Twitter @jeffreyparnold.