Posted on
Wed, Oct 26, 2011 : 10:21 p.m.
Michigan hockey players taking underdog approach against red-hot Ferris State
By Pete Cunningham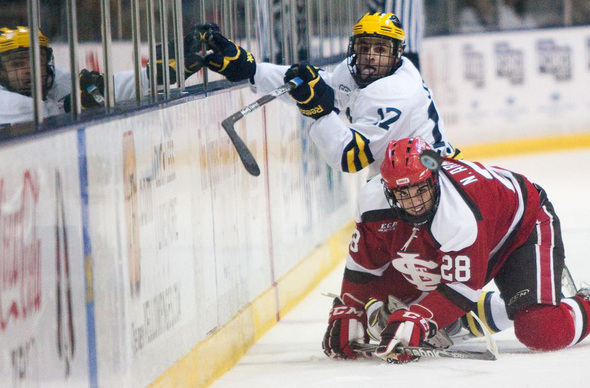 Chris Asadian | for AnnArbor.com
It's not often the
Michigan hockey
team can claim to be an underdog, but that's exactly what junior forward
Chris Brown
says is the Wolverines' mindset going into its home series against Ferris State.
Ferris State comes to Yost Ice Arena for 7:35 p.m. games on Thursday and Friday with a 6-0 record and fresh off a CCHA-opening sweep at Miami (Ohio).
"I can't remember the last time that happened," Brown said of the Miami sweep.
Ferris was picked to finish ninth by the coaches in the CCHA preseason poll, but is currently ranked No. 6 in the country by USCHO.com (No. 7 USA Today/USA Hockey).
"They're coming out of their shell this year, as of the past six games, so we're going to take it like we're going to play the underdog role here," Brown said.
Michigan (4-1-1, 0-1-1-1) had a sluggish start to league play last weekend, losing at Northern Michigan Friday and tying on Saturday, salvaging two points with a shootout win. Michigan coach Red Berenson said the trip to Marquette was a wakeup call for the Wolverines, who went into the weekend ranked No. 1 in the country. Michigan is currently a consensus No. 4.
"The level of play in the CCHA is very intense and you just can't duplicate that in some of these non-conference games. So that was a wakeup call," Berenson said
Ferris' defense is currently tops in the country with a 0.83 goals-against average, while Michigan's offense is third in the nation with five goals per game. But Berenson said trying to counter good defense with an aggressive attack isn't a winning equation.
"Whether we have a good game offensively, you never know, but we gotta make sure that we play well defensively," Berenson said. "It starts with your goals-against. You can control that a lot easier than you can control goals scored."

Hunwick plans to keep fire and his cool

Even after being ejected from Michigan's 5-3 loss to Northern Michigan on Friday, senior goaltender Shawn Hunwick said he has no intention of changing the attitude he embodies when playing the game.
Hunwick was run over in the second period by Northern's Andrew Cherniwchan and was thrown out after throwing a punch in retaliation. During the melee that ensued, Hunwick also punted a helmet and threw his stick while being escorted off the ice.
"I'm not going to change my mindset at all and I'm not going to play with less emotion, but I obviously just can't snap like that," Hunwick said.
Hunwick said he was so upset at the time because he thought Cherniwchan made no attempt to stop while coming at him. After seeing the replays -- which show Cherniwchan getting tripped up by Michigan defender Lee Moffie on the play -- Hunwick said he felt a bit sheepish over the incident.
"It was a bit of a misunderstanding. I didn't know Moffie took him down, I thought he just completely ran me over, which if he did, with my actions, throwing a punch, I probably wouldn't feel too bad about," Hunwick said. "Throwing a stick and punting a helmet, that's a little bit different. I'm more embarrassed about that than the actual physical altercation."

Less flash more goals

Junior forward A.J. Treais has started the season strong for the Wolverines with 7 points (4 goals, 3 assists). Berenson said he's encouraged to see the production out of a player he thought hasn't produced to the level he's capable of in his first two years.
Treais had 34 combined points over his first two seasons.
"This is the best we've seen him game in and game out and I think he's just starting to get that confidence," Berenson said. "He realizes now that we don't have (Matt) Rust and Carl (Hagelin) and Louie (Caporusso), the seniors from last year, and he's the guy we have to look up to and he's living up to that."
Treais credits his spike in production to keeping things simple and not trying to beat players one-on-one so much, something he said the coaching staff stressed to him in the offseason.
"I tried to do that a lot my first two years, so I've kind of eased off on that now and I'm just kind of getting the bounces right now," Treais said.
Pete Cunningham covers sports for AnnArbor.com. He can be reached at petercunningham@annarbor.com or by phone at 734-623-2561. Follow him on Twitter @petcunningham.