Posted on
Sat, Dec 29, 2012 : 9:28 p.m.
Michigan hockey starts second half with a dud in 4-0 loss to Michigan Tech at GLI
By Kyle Austin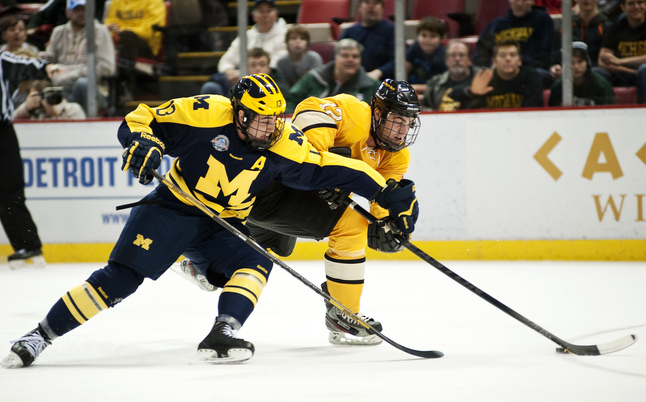 Updated at 10:25 p.m.
DETROIT -- The Michigan hockey team came to Joe Louis Arena this weekend looking for a jolt to start the second half after its worst first half in decades.
By the third period, it was throwing sucker punches while being blown out by a four-win team.
The Wolverines fell to Michigan Tech, 4-0, as defensive miscues and an offense that struggled to finish knocked the Wolverines out of the GLI in the first round for just the second time in the last seven years.
More coverage: Boxscore | Photo Gallery
The loss snapped a two-year GLI winning streak for the Wolverines, and a 10-game Michigan winning streak against Michigan Tech. The Wolverines now stand at 6-10-2 on the year.
Michigan will now face Michigan State, a 2-1 shootout loser to Western Michigan in the first semifinal, at 3:30 p.m. Sunday in the third-place game. Michigan and MSU split their first-half series Nov. 9-10 with a 5-1 Michigan win and a 7-2 Michigan State win.
The Wolverines came out with more energy, taking seven of the first nine shots in the game in the first five minutes.
But the Huskies turned the tables when Alex Petan snuck into the slot unmarked, and finished a behind-the-net feed from Jujhar Khaira.
The goal marked a momentum shift the Wolverines were never able to reverse.
"I thought we were getting some chances, and then one bad play and the puck's in your net and the other team has the lead," Michigan coach Red Berenson said. "That's a tough pill to swallow, but you've got to bounce back from that."
Khaira put his team up by two 12 minutes later, when he tipped in a shot from the blue line in the waning seconds of a power play.
Petan notched his second goal of the game four minutes into the third period, when he tucked a shot around Michigan goalie Adam Janecyk's left skate on a breakaway.
After Petan's goal, he dropped to one knee and skated in front of the Michigan bench in celebration, prompting Wolverines defenseman Lee Moffie to lean over the boards and punch him. The blow and subsequent fracas resulted in four roughing penalties, three on Michigan.
Soon after the penalty expired, Michigan Tech's Tommy Brown launched a long shot through traffic and Janecyk's legs for his first goal of the season.
Petan led Tech with two goals, after being hospitalized Saturday morning with an illness. MTU coach Mel Pearson said the freshman received an IV, but the team still dressed an extra skater in warm-ups, unsure of his availability.
"Sometimes you have your best games when you're not feeling well, and he did," Pearson said.
Janecyk, a junior, made his second straight start, the third of his career. After recording a shutout against Western Michigan to end the first half, he made 32 saves Saturday.
"I thought the goals that went in for the most part he couldn't see," Berenson said. "Did we play a good game defensively? No. We gave up 35 shots or something in a game. We've got to protect our goalie better than that."
The Michigan attack struggled to create chances at times, but also fell victim to multiple highlight reel saves from MTU goalie Pheonix Copley. Michigan took 38 shots.
"He's a confident kid, very athletic, and as you saw tonight he can make the big save, the save the turns the game around," Pearson said of Copley. "He made a couple tonight."
Michigan Tech game into the game averaging just 1.4 goals per game over its last five, and with a 4-10-3 record on the season.
Pearson is in his second season as Michigan Tech's coach, after spending 23 seasons as a Michigan assistant. Saturday marked the first time he had faced his former boss.
"He's a great man, I've really learned a lot from him and really owe him a lot," Pearson said. "He's one of the all-time great coaches in college hockey."
Kyle Austin covers sports for AnnArbor.com. He can be reached at kyleaustin@annarbor.com or 734-623-2535. Follow him on Twitter @KAustin_AA.