Posted on
Sat, Mar 16, 2013 : 9:17 p.m.
Michigan hockey sweeps Western Michigan and advances to CCHA semifinals with 5-1 win
By Kyle Austin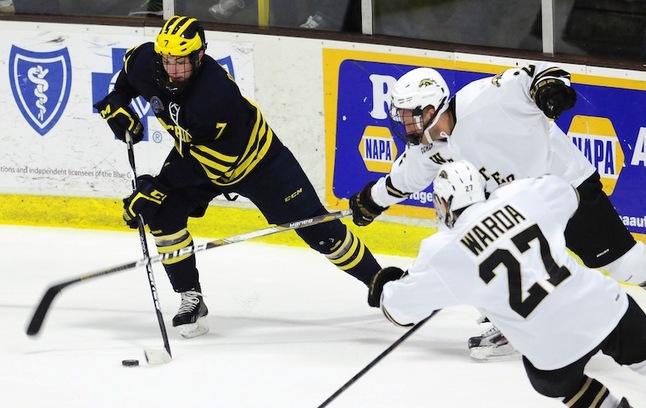 Matt Gade | Mlive Media Group
Updated at 10:30 p.m.
KALAMAZOO -- Before this Michigan hockey team can extend its most hallowed streak to 23 years, it first had to extend a different one to 24 years.
With a 5-1 win over Western Michigan Saturday night at Lawson Ice Arena, Michigan swept its quarterfinal series and advanced to the CCHA semifinals at Joe Louis Arena for the 24th consecutive year.
"That sounded like a lofty goal to a lot of people about six weeks ago when we said our goal was to get to Joe Louis," Michigan coach Red Berenson said. "We knew it would be the hard way to get there, and here we are."
Michigan, the No. 7 seed in the CCHA tournament, is now just two wins away from a tournament title and automatic NCAA tournament berth following a 13-18-3 regular season. Michigan has been to a record 22 consecutive NCAA tournaments.
The Wolverines will play a semifinal game Saturday in Detroit against either Miami, Notre Dame, Ferris State or Ohio State.
Michigan will take an eight-game unbeaten streak into that game, after two sweeps to end the regular season and consecutive playoff sweeps.
"I think people are scared of us right now," senior forward Kevin Lynch said. "They know that we've been on a hot streak, we won eight games in a row. We're hungry right now, we're hungry for a ring, that CCHA championship."
Saturday proved perhaps the most impressive win during that stretch, as Michigan scored three goals in the first 11 minutes of the second period and dominated the first 40 minutes, outshooting the Broncos 26-14.
Michigan got on the board 1:08 into the game, when Lee Moffie threaded a long pass to a streaking Lynch at the blue line, and Lynch fired a shot high over Western Michigan goaltender Frank Slubowski.
The Wolverines dominated the first period, winning the shot battle 15-3. But they went into the first intermission tied, after Western's Garrett Haar fired a shot past a screened Steve Racine.
"We had a lot of pucks on net in the first period, we just didn't capitalize," Lynch said. "We had a lot of good opportunities
Michigan's second-period barrage started two minutes in, when Slubowski left the net to play a loose puck, and Michigan's A.J. Treais dug it out of the corner and found Andrew Sinelli in front for a wide-open goal.
The Wolverines' next two goals came 49 seconds apart, the first on their first power play chance of the night, when forward Alex Guptill picked up a loose puck in front and buried the shot.
Derek DeBlois added to the lead less than a minute later when he netted a backhand shot. That goal chased Slubowski, who had a 1.92 goals against average in 37 games on the year.
But a few minutes later, the Wolverines found themselves on their heels, and Berenson took his timeout late in the second.
"These games can go either way," Berenson said. "I've seen 4-1 and 5-1 games go the total other direction, especially if the home team is involved. I thought our guys were tired, they needed a breather, we didn't want them to get going."
After Racine made a save on a Western breakaway chance with a minute left in the second period, Guptill notched his second goal of the period with a top-shelf shot over Broncos backup Lukas Hafner.
"That shift, they were kind of owning our line, actually," Guptill said. "And we had a back chip along the boards, and it ended up coming to Moffatt, and he made a good play, so it was definitely a big momentum change."
The Wolverines only took three shots in the third period, but held Western to nine and no goals.
"Everything went our way, just one of those games," Berenson said. "We played well and we didn't let them play well.
Guptill's goals gave him points in nine consecutive games, and multiple points in seven of his last nine. Moffatt, a junior, finished with three assists, the the most he's tallied since his freshman year. Treais finished with two assists.
Racine, starting his eighth consecutive game, gave up one goal for the third time in his last six outings and made 22 saves.
For the Wolverines upperclassmen, this moment is reminiscent of 2010. That year, Michigan was also the No. 7 seed in the CCHA tournament, and ran all the way to a tournament title and NCAA bid.
This year, Michigan is hopeful for a similar performance.
"I was in a similar situation to this my freshman year and we pulled through," Treais said. "And I have the same feeling about this team that I did freshman year."
Kyle Austin covers sports for AnnArbor.com. He can be reached at kyleaustin@annarbor.com or 734-623-2535. Follow him on Twitter @KAustin_AA.