Posted on
Sat, Jan 26, 2013 : 10:53 p.m.
Michigan hockey swept by Western Michigan for first time since 1986
By MLive Media Group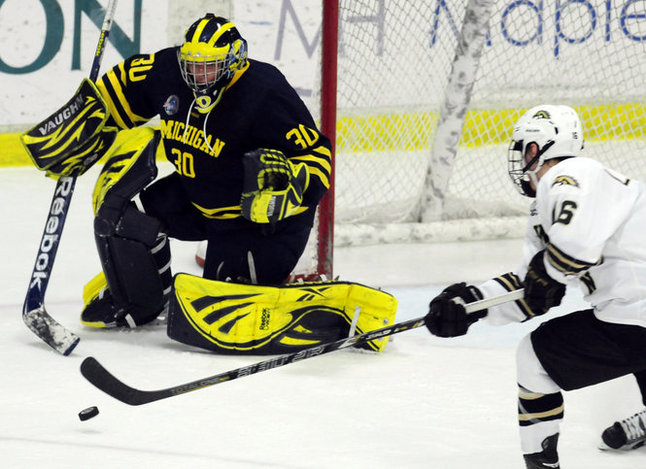 Matt Gade | Mlive Media Group
By David Drew
KALAMAZOO, MI - Western Michigan University got the monkey off its back on Friday and the Broncos made a statement on Saturday.
Michigan again got on the scoreboard first, but Western Michigan scored five unanswered goal to win 5-1 and sweep the Wolverines for the first time since 1986.
It was the Broncos' first-ever sweep of Michigan at Lawson Arena as this weekend's series was the first two-game series in Kalamazoo. The sweep in 1986 was a home-and-home matchup.
Michigan got out to a 1-0 lead when Skyline graduate Andrew Copp scored on a U-M power play with 4:26 left in the first period, but it was all WMU from there.
The Broncos got on the scoreboard when Shane Berschbach re-directed a Matt Stewart shot from the blue line 4:08 into the second period and Michigan goalie Adam Janecyk was not able to track it.
Just two-and-a-half minutes later Kenney Morrison lit the lamp with his signature rip on the power play to give WMU a 2-1 lead.
The prettiest goal of the game was scored by freshman Colton Hargrove. After a U-M turnover, freshman linemate Josh Pitt brought the puck up the ice on a 2-on-1 odd man rush and found Hargrove who got just enough of it to send it in to the leg pads of Janecyk, who deflected it back into play. Hargrove, moving full speed towards the net, gathered the puck and wrapped it around Janecyk for the score.
The Wolverines recorded one shot on goal through the first 16 minutes of the second period and finished the middle frame with three shots.
WMU took a 26-12 shot advantage into the second intermission.
Pitt and Hargrove put the icing on the cake for Western Michigan in the third period.
Pitt, a 6-foot-3, 205-pounder, created a turnover in the Michigan zone and buried the biscuit 2:13 into the final frame.
Hargrove scored another goal in front of Janecyk 3:53 into the third when linemate Mike Cichy fed him a pass from behind net.
Janecyk was pulled after Hargrove's second goal and replaced by Jared Rutledge. Janecyk finished with 26 saves. Rutledge made two stops in relief.
WMU goalie Frank Slubowski stood tall at times, but got plenty of help in front of him from the Brown and Gold defense and the offense, which did a nice job of possessing the puck, especially in the second.
Slubowski finished with 20 saves.