Posted on
Wed, May 9, 2012 : 2:02 p.m.
Michigan hockey team announces new uniforms for 2012-13 season, Great Lakes Invitational
By Rich Rezler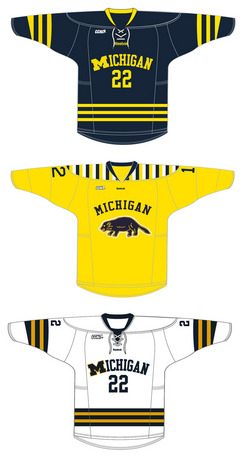 Michigan athletic department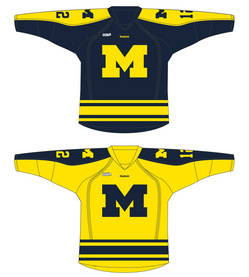 As it turns out, the throwback-style jersey the Michigan hockey team wore during the 2010 Big Chill at the Big House were also a bit futuristic.
The replica of the sweater the Wolverines wore between the 1945 and 1948 seasons is the same alternate maize jersey the 2012-13 team will wear, the school announced Wednesday.
While their home white jerseys remain unchanged from last season, Reebok has redesigned the Wolverines' road blue jerseys and created a pair of commemorative jerseys for use at the 2012 Great Lakes Invitational, which will be played at Comerica Park in Detroit.
The outdoor GLI will be part of the Hockeytown Winter Festival in conjunction with the NHL's Winter Classic being played at Michigan Stadium. The tournament will be held Dec. 29-30.
All of the new jerseys include design elements reminiscent of past Michigan hockey eras.
"We wanted to pay tribute to the great tradition of our hockey program by redesigning our jerseys to honor teams of the past," coach Red Berenson said in a statement.
The new blue jerseys are similar to Michigan's home white version, with "Michigan" spelled out across the chest. That look is inspired by a combination of the mid-1950s and early-1960s Michigan sweaters, the school said.
The GLI jerseys, created in both maize and blue, have a large block 'M' logo across the front and striping around the bottom, similar to teams from the 1970s.
"This season's uniforms will recognize the heritage and success of the Michigan hockey program," athletic director Dave Brandon said in a statment. "We hope that our fans enjoy the retro designs as much as the current and former players."
Visit MGoBlue.com for a photo gallery that includes the entire uniform for each jersey.
Rich Rezler covers sports for AnnArbor.com. Contact him at richrezler@annarbor.com or 734-623-2553.