Notebook:

Michigan hockey team back in normal routine as CCHA schedule begins this weekend

Posted on Tue, Oct 5, 2010 : 7:25 p.m.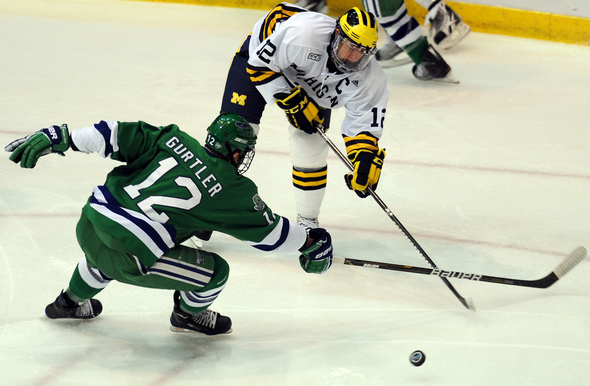 Any other week, it would have been an ordinary Tuesday afternoon skate.

But Tuesday's first full practice of the year finally gave Michigan hockey coach Red Berenson an ample chance to work with his team after weeks of carefully picking and choosing what to focus on due to time constraints.

Until this week, NCAA rules prohibited coaches from spending more than two hours a week in full-squad practices. Wanting to get in as many full-squad workouts as he could, Berenson split the practices into three 40-minute chunks, limiting his effectiveness to prepare for the season.

It showed in Michigan's season-opener against Mercyhurst. The fourth-ranked Wolverines jumped out to a 4-0 lead before allowing three third-period goals in a disappointing 4-4 tie Saturday night.

The third-period collapse included a combination of missed defensive assignments, missed offensive opportunities and bad penalties that added up to the Wolverines failing to start the season in the manner they had hoped to.

"I'm sure every team is in the situation, but we just felt that our team looked like it hadn't been coached well," Berenson said Tuesday. "It was just little things. Too many mistakes, turnovers, this, that. It looked like we had been out on the ice part-time."

With his team back in a full regular-season practice schedule, Berenson said his players are working to put their "summer bad-habit hockey" behind them while allowing Berenson and his staff to really focus on many issues they couldn't before.

The Wolverines (0-0-1) used Tuesday to begin preparations for this weekend's CCHA-opening series at Bowling Green. A full practice schedule allows them to establish better communication along with giving them time to evaluate how line combinations will work as the season progresses.

Berenson said Tuesday that this was the first time he noticed the impact of not having full practices prior to the season-opener. In previous years, the Wolverines played an exhibition game before the opener, providing a dress rehearsal to work out some of the kinks normally picked up in practices.

But with the schedule reversed last weekend and a 4-2 exhibition win over Western Ontario coming after the Mercyhurst game, some of the issues that would be discovered in an exhibition came out in a meaningful game.

"We had some stupid plays we wouldn't normally make and some mental errors," senior center Matt Rust said after Saturday night's tie.

Hitting the road

Berenson said he expects the Wolverines' focus to sharpen a bit now that league play begins this weekend with two road games at Bowling Green. The Falcons open the season under first-year coach Chris Bergeron, who spent the previous seven years as an assistant at Miami.

Although Bowling Green was picked to finish last in the CCHA in both the preseason media and coaches polls, Berenson expects the Falcons to be much improved from last season.

Michigan will use the same goalie rotation as last weekend. Shawn Hunwick will start Friday night (7:05 p.m., Comcast Channel 900) before Bryan Hogan will take his turn in net in Saturday's 7:05 p.m. game.

"We've got to go in there and try and play the role of the spoiler on the road," Berenson said. "These are big points available this weekend. The Mercyhurst game -- we wanted to play a game and it was a real game, but now, you're right in the CCHA and this is what you play for is to finish on top of this league and then we'll go from there."

Waiting on 700

Friday night's CCHA opener will also give Berenson another shot at his 700th career coaching victory. The 26-year coaching veteran was left stuck on 699 wins after Michigan blew the lead against Mercyhurst. Afterward, Berenson said he wasn't concerned about getting the milestone win out of the way.

"Well, it's going to happen and we've got all season, but we don't want to be talking about it a few weeks from now," Berenson said Saturday. "It should have happened (against Mercyhurst), but it will happen. I'm not worried about that. I'm just worried about our team playing well."