Posted on
Thu, Dec 30, 2010 : 11:45 p.m.
Michigan hockey team captures Great Lakes Invitational with come-from-behind win over Colorado College
By Jeff Arnold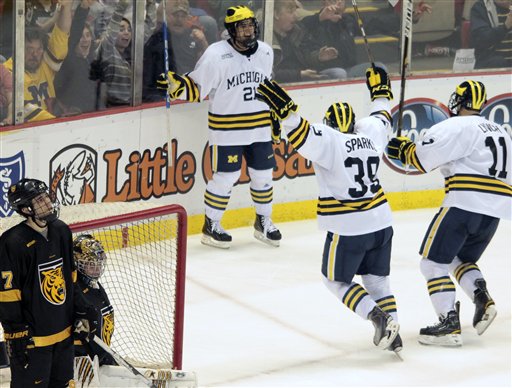 AP Photo/Jerry S. Mendoza
DETROIT - By the time A.J. Treais tracked the puck down, he took one glance over his shoulder, figuring firing a shot anywhere near the goal couldn't hurt.
Until that point, plenty had gone wrong for the Michigan hockey team so the sophomore forward thought a shot at a lucky bounce was better than nothing. When the puck hit Colorado College defenseman Eamonn McDermott and past goalie Joe Howe, the bounce the 10th-ranked Wolverines had been waiting for all night made all the difference in the world.
Treais' goal with 4:04 remaining in the Great Lakes Invitational championship game capped a late Michigan comeback, delivering a tournament championship with a 6-5 victory over the 20th-ranked Tigers on Thursday night at Joe Louis Arena.
The GLI title was Michigan's third in the past four years and 14th overall. But the latest crown was securred in a game when the Wolverines (12-5-4) struggled mightily on special teams and had to erase a late one-goal deficit to escape with the win.
"We may have got lucky, but we stayed with it," Michigan coach Red Berenson said. "We got chances, but we continued to play hard and we play well. But we needed a break and we got it."
Treais' game-winner - his second in two nights - came less than two minutes after the Wolverines tied the game at 5-5 on Lee Moffie's power play goal with 6 minutes left.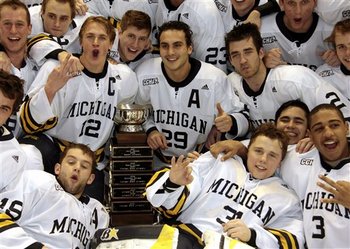 AP Photo/Jerry S. Mendoza
Before that point, the Wolverines hadn't connected on their first five power play chances. Colorado College (12-9-1) depended heavily on the power play, scoring four of its five goals with a man advantage. The Tigers' final power play score gave Colorado College a 5-4 lead, bringing the Tigers all the way back after trailing 2-0 early.
"Obviously we weren't happy with them going up," said senior captain Carl Hagelin, who had three assists. "We just tried to stick to the game plan - get pucks to the net - and that's what we did. Now, we're here as winners."
Colorado College did everything it could to knock off Michigan for the second time in GLI play. The Tigers, who won the MacInnes Trophy in 2005 after beating the Wolverines 6-1 in the semifinals, scored on four of its five power-play chances, including twice in the third period.
Colorado College tied the game on three occasions despite playing without its top scorer, Jaden Schwartz, who is part of the Canadian World Junior Championship team. Despite his absence, the Tigers managed to beat Michigan goalie Shawn Hunwick five times before surrendering the late two goals.
Despite its own struggles, Michigan made the most of its final power play chance. After a sequence Moffie called "the worst power play shift of my life," the sophomore defenseman corralled the puck and fired a shot past Howe with six minutes left to draw the Wolverines even.
Just under two minutes later, Treais delivered the game-winner for the second straight night when the Wolverines slipped past Michigan Tech, 4-2, to reach the championship game.
"We came out (Wednesday) night and not everything was going our way and tonight, we battled back," said senior captain Luke Glendening, who scored two goals Thursday night and who was named the GLI Most Valuable Player. "I think that really does show the character of this team. Not everything was going the way we hoped for, but we kept working and in the end, we got a win."
The victory extended Michigan's win streak to four games heading into next weekend's home and home series with rival Michigan State. The Spartans won the consolation game against Michigan Tech.
But perhaps more importantly than another win, the tournament championship provided some momentum as the Wolverines refocus on CCHA play beginning next weekend. The two victories - which were highlighted by a flurry of scoring from young players - may also be big down the road.
Michigan will face Michigan State next month in Detroit but hopes to return in March when the Wolverines would be looking to defend its CCHA Tournament crown from last season.
"I think (the championship) is big - it's a big confidence booster," Berenson said. "It's good for your confidence if you get back to The Joe - which is our goal - to get back to The Joe for the CCHA playoffs. To play well in a venue like this and have success is good for our young players to get a feel for what it's like to play in these games."
Jeff Arnold covers Michigan hockey for AnnArbor.com and can be reached at (734) 623-2554 or by e-mail at jeffarnold@annarbor.com. Follow him on Twitter @jeffreyparnold.