Posted on
Mon, Mar 29, 2010 : 3 a.m.
Michigan hockey team finds perspective even with disappointing season-ending loss
By Jeff Arnold
FORT WAYNE, Ind. - His team had been given no chance of reaching the NCAA Tournament, let alone making a push for a spot in the Frozen Four.
But here was Red Berenson in the early-morning hours of Monday, putting Michigan's hockey run in perspective. As impressive as seven straight wins were, though, the coach who has been part of each of the Wolverines' 20 straight NCAA appearances expressed disappointment in the way Michigan's season ended.
Berenson thoughtfully put Sunday night's heart-breaking 3-2 double-overtime loss to Miami (Ohio) into words, careful not to take away from everything his team had done over the past month.
Lon Horwedel | AnnArbor.com
But the competitor in the 70-year-old coach also realized how close Michigan had come to knocking off Miami for the second time in nine days.
"You're so close and especially with the Frozen Four in Detroit," Berenson said. "That just makes it a natural for Michigan. If we could have got there, who knows what could have happened because we had the confidence, we had the momentum and this team was really making believers out of everyone who two months ago wouldn't have given us a hope in heck about making it."
Afterward, Berenson's players trickled out of the Michigan locker room still trying to digest what transpired. After several scoring chances in the first overtime slipped away, the Wolverines left the ice as Miami celebrated Alden Hirschfeld's game-winner 1:56 into the second overtime.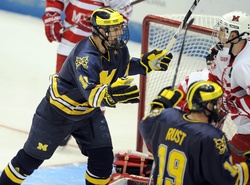 Lon Horwedel | AnnArbor.com
In disappointment, came the realization of what Michigan did over the past three weeks.
"We weren't even expected to be here," junior forward Louie Caporusso said. "It's tough to (look back) now after having that goal scored against us. We still have that bitter taste in our mouths. But when we look back at it a week from now, we're going to see we've accomplished a lot."
Trading places
Although Miami entered the NCAA Midwest regionals as the heavy favorite to advance to Ford Field, the RedHawks nearly found themselves dealing with a second straight loss to Michigan.
Miami coach Enrico Blasi chose to start Connor Knapp in goal Sunday night after CCHA Player of the Year Cody Reichard started Saturday night's semifinal win over Alabama-Huntsville.
It was Reichard who surrendered five goals to the Wolverines in Michigan's 5-2 CCHA Tournament semifinal win over Miami last weekend in Detroit.
"Tonight's was Connor's night, and we knew he would go in there and do exactly what he did," Blasi said. "We reminded him that Michigan shoots from everywhere and to be ready. He was great all night long."
As solid as Knapp was in making 53 saves, the sophomore admitted he was glad to hear the referee's whistle blow the play dead in the first overtime when Michigan freshman Kevin Lynch nearly ended the game on a controversial disallowed goal.
"I was fortunate he blew the whistle fast," Knapp said. "I knew he blew the whistle before the guy shot it. If the ref can't see (the puck), he's going to blow the whistle."
Told you so
Michigan senior captain Chris Summers had a feeling about Shawn Hunwick all season. Even when others anointed Bryan Hogan as the definitive starting goalie, it was Summers who said Hunwick could play a role by the time the season was over.
But not even Summers could have seen this coming. Could he?
"I give him a lot of credit that many people don't," Summers said. "It took last weekend (at Joe Louis Arena) how people to realize how good of a goalie and how much of a big of a character guy that kid is."
Berenson, who, at the start of Hunwick's starting stint wasn't sure he had the makings of a top-notch goalie, said the Wolverines wouldn't be where they ended up without him.
"He stepped in and he played like he had being playing all year (in practice)," Berenson said.
By the numbers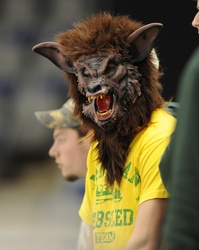 Lon Horwedel | AnnArbor.com
The announced attendance at Sunday night's championship final was 3,204, which was evenly split between fans decked out in maize and blue and Miami red. ...With Sunday night's loss, Berenson remains at 699 career victories...Twenty of Michigan's 55 shots on goal came in the first overtime when the Wolverines did everything but score in an effort to advance to their 24th Frozen Four.
Jeff Arnold covers Michigan hockey for AnnArbor.com. He can be reached at jeffarnold@annarbor.com or 734-623-2554. Follow him at Twitter @jeffreyparnold.