Posted on
Fri, Feb 3, 2012 : 11:29 p.m.
Michigan hockey team's 4-1 win over Miami turns into a birthday party
By Pete Cunningham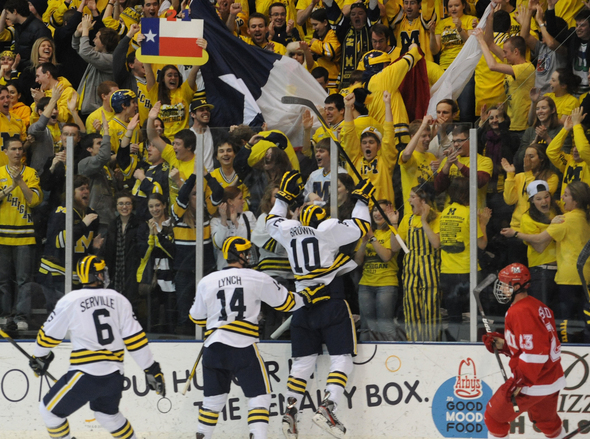 Angela J. Cesere | AnnArbor.com
Updated at 11:29 p.m.
It was a birthday party at Yost Ice Arena on Friday, and the guests of honor provided plenty of reasons to celebrate during the Michigan hockey team's 4-1 victory over Miami.
Junior forward Chris Brown, who turned 21 on Friday, got the celebration started early with a goal on his first shot of the night just 100 seconds into the game.
Alex Guptill tapped the puck out of the Michigan zone late in their line's first shift, in what seemed like a perfect opportunity to change up the lines.
Brown had other ideas, winning a foot race with a pair of Miami defensemen and beating goaltender Cody Reichard five-hole just 100 seconds into the first period.
"We were concerned about whether we would be a little rusty having had two weeks to get ready for this game, but I thought our team jumped well," said Michigan coach Red Berenson. "It's good to get that first goal."
Sophomore defenseman Jon Merrill, who turned 20 on Friday, had two assists and A.J. Treais, who turns 21 on Saturday, brought a few presents of his own -- a pair of goals and an assist.
Brown ecstatically jumped into the boards in front of the student section following his goal as they flew the flag of his native Texas and sang "Deep in the Heart of Texas." They serenaded him again later in the period with a "Happy Birthday" rendition at the tenth minute (Brown wears No. 10), and did the same for Merrill (No. 24) at the 24th minute of the game.
"It's good for (Brown) to get one on his birthday," said Treais. "I got one last year, hopefully I can get another one tomorrow."
Angela J. Cesere | AnnArbor.com
Treais effectively ended Reichard's night with a pair goals to end the first period and put Michigan (16-9-4, 9-7-4-1 CCHA) ahead 3-0 heading into the first intermission. Treais went top shelf with a wrist shot he called his best since playing juniors.
"I just saw a very small spot. I was trying to get it to that spot and put it on net, pretty much, and luckily it went in," Treais said. "I haven't done that in a while."
Reichard allowed three goals against just 11 shots faced and was replaced by Connor Knapp to start the second period.
Knapp, who came into the game with a CCHA-leading 1.62 goals-against average in league play, fared better, with 12 saves on 13 shots, but allowed a Luke Moffatt deflection goal on Michigan's only shot of the second period as Michigan was outshot 11-1.
"(Miami) bounced back with a strong second period and we were lucky, whether it was a crossbar, a goal post, Hunwick and just a couple bounces, it could have been a different game," Berenson said. "That fourth goal was a big goal."
"It was absolutely perfect, there was no one on me and (Merrill) put it right in the perfect place for me to tip it," Moffatt said. "Smart play."
Reilly Smith got Miami (15-12-2, 11-10-2-1) on the board 31 seconds into the second period with his league-leading 20th goal of the season, but Michigan stretched the lead back to three with Moffatt's power play goal -- Michigan's second of the night -- less than two minutes later.
While the first 23 minutes of the game had five goals, the teams would play scoreless hockey for the final 37, which was riddled with penalties. Both teams had eight penalties apiece for a combined 35 minutes of infractions.
"I like the intensity, but we need to have discipline," Berenson said. "I don't care how hard you play or how physical you play, you have to be able to handle it."
The teams got especially chippy at the end of the game as Michigan began to retaliate when goaltender Shawn Hunwick was charged in his net for the third time. Miami was penalized on two of the occasions and the game ended with a lengthy delay following a scuffle.
Berenson and the players said they expect an emotional and physical series finale on Saturday (7:35 p.m., CBS Sports Network), but not necessarily in retaliation to Friday's events.
"This is not women's tennis, this is CCHA hockey, so I think we expect (physical play) and we can play in games like that," Treais said. "We may not be the biggest team in the league, but we can hang with those guys."
Hunwick finished with 24 saves.
Contact Pete Cunningham at petercunningham@annarbor.com or by phone at 734-623-2561. Follow him on Twitter @petcunningham.