Posted on
Wed, Apr 7, 2010 : 3:49 p.m.
Michigan hockey coach Red Berenson wraps up season, looks ahead to next year
By Jeff Arnold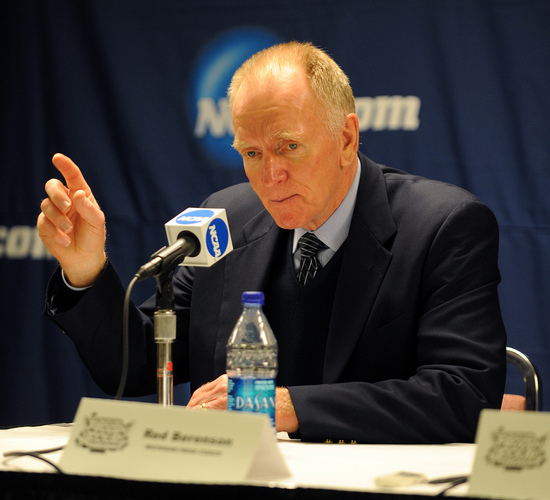 Under slightly different circumstances, Red Berenson would be coaching in this weekend's Frozen Four rather than planning ahead and still trying to digest a controversial season-ending loss in the NCAA Midwest regional finals.
Berenson said his Michigan hockey team had as decent of a chance to leave Detroit with a national championship as any of this weekend's participants that will begin play at Ford Field on Thursday.
But following a season that included a magical month-long stretch that left the Wolverines on the fringe of a Frozen Four berth, Berenson took the year for what it was. He covered that, plus other topics, in an extensive question-and-answer session Wednesday.
Q: Have you had time since the lost to Miami to put everything in perspective and consider just how far this team came this season after such an inconsistent start?
A: I think I've put that in perspective, but the part I'm having trouble with is what they could have done. That was about snatched away from them, and that's the part that hurts. It just breaks your heart that a team that was having such a good run all of a sudden had it taken away by a controversial call. 
But outside of that, I'm proud of our team and as a coach, you can't ask any more from a team. In big games, when the season was on the line, this team came through and it just wasn't once. It was night after night, weekend after weekend and that last month was a great run for this team.
Q: As magical as that run was, was it a bit concerning that your team put itself in that position to have to make the run it did to get where it got?
A: It wasn't a great season for Michigan, let's face it. It was a season of ups and downs, and there were definitely some ups. I look back at the Thanksgiving weekend (against Minnesota and Wisconsin) and that was a sign that this team could play with a good team. To me, Wisconsin is as good of a team as we played all year and it wouldn't surprise me if they prevailed at the Frozen Four. They were a good team and so was Miami, and we showed we could play with a team like Miami when the chips were on the table at the end of the year. 
For those reasons, you say, geez, this team could have been a better team, they could have had a better season and why didn't why we? It was a tough league this year, our team wasn't as consistent, our goal-keeping wasn't as consistent, our best forwards weren't as consistent, our team defense wasn't as consistent. It was amazing - we just went through all the problems a team could go through except injuries, and then the injuries hit us at the end. We had all the typical problems of the average team and then we played like an average team.
Q: Considering all the parts of this year's team you have coming back, how much do you use this year's experience as a motivational tool for next year?
A: No question. That's the one thing our players will tell you. They're excited now to have that feeling of how well they can play and how well they could play together and how good this team could be every game, every weekend and that's really the trademark of the good Michigan teams. We started really good and we we finished even better and I'm sure this team will want to make that statement next year.
Q: As you met with players, did you sense that determination to make that happen once they come back in the fall?
A: I sensed a little bit of frustration that they didn't get where they could have gone - you just don't forget about a season that could have been a national championship season, you could have gotten to the Frozen Four - should have gotten to the Frozen Four and then once you get there, you look around and say, 'We're as good as anyone here'. You don't - after a weekend - forget about that. But, with that, I think they've got the feeling that next year - especially our senior class - they know they can step up, they know what it's like, they've gotten a good taste of it. I've always said you're as good as your senior class and next year could be an exciting year if that's the case.
Q: Did that make your decision to return for another year easier?
A: I haven't said it officially, but I'm going to meet with our administrators and we usually give it a month after the season and we let all the smoke clear and then we'll talk about it. But I'm feeling really good about our team and our season. I want to talk to our administration, but I have the feeling that we're moving in that direction.
Q: With the outdoor game at Michigan Stadium and with all you have coming back, does everything point toward what could be a really special season?
A: The Big House game is the focal point of a lot of people. There are going to be so many people that are coming to that game that haven't seen our team play in 10 years or so and have maybe never seen our team play. That's going to be a real focal point of our season but for me, it's more than that. I've coached in outdoor games and so it won't be my first time.
But I'll really look forward to that because I didn't think it would ever happen at the Big House, and so that will be a special experience. But it will be our team more than anything, it's the senior class and what they've been through and what they should do and what they can do and about the team that finished this year. If they can put that into next year, it's something to be excited about.
Q: Considering all the disappointment that surrounded Michigan's football and men's basketball teams, do you think your team provided some ray of hope this year?
A: That's what people are telling me and that's what the last month of the season did for Michigan. That helped carry the torch high and gave a lot of Michigan fans pride in Michigan sports. You never know how your season is going to end, but ours ended - up until that last goal - on such an up note. It wasn't just one weekend. It was four weekends and it just kept picking up and people got into it. I think it was great for Michigan.
Q: For you, was there a moment in that run when you found yourself just looking around and enjoying what was going on?
A: I was never surprised with this team. It wasn't like we were over-achieving or doing something I didn't think we could do. I just felt good as a coach. Our concerns as coaches were things like if our team was going to handle success well because they hadn't experienced a lot of consistent success. But this team, they came back - the second night against Lake Superior State, the second night against Michigan State, the second night at Joe Louis. Then, it was having that pressure of if we win this game, we get into the tournament. 
This team was so ready and so focused and just ready to play the kind of hockey they needed to play. That made me feel really good because if you're a good coach, you can get out of the way. Once a team gets going, get out of the way and don't try over-coaching or don't get in the way and I had that feeling. That's what the playoffs should bring out of your team and that's why the playoffs are so much more entertaining. You get everyone's best and we got everyone's best. That was the best part for us.
Q: How do you carry that over?
A: You can't live on last year and you can't live in the past. But what you can remember is all the things it took to be successful and whether it was the hard work, or sticking to the game plan or supporting your teammates. There were a lot of things you could write down - the chemistry is something you can't manufacture, but a lot of it was about the team. It's like when (goalie Shawn) Hunwick came in and had a tough stretch at Notre Dame. No one quit on him. We didn't play well in front of him and he didn't play well in net, but they got right behind him again. I think they have a lot of confidence in each other that will carry forward.
Q: Speaking of Hunwick, with his playing so well, it leaves you with an interesting situation at goalie with Bryan Hogan coming back. How do you deal with that?
A: We'll watch both of them. Hogan has shown he can play and Hunwick has shown he can play. A year ago, I couldn't have told you that. Hogan was our starting goalie and it was clear. Hunwick never got a start until Hogan was hurt and maybe he should have but he never had the chance. Well, he's had the chance now and he has proven it so we'll definitely have two starting goalies.
Q: How do you evaluate that? Would you use a rotation or do you think you need a solidified No. 1 goalie?
A: What we've done in the past is we could play one goalie on Friday and one goalie on Saturday and we'd go through a series of weekends and see if there was definite difference or if they both play well, which is really what you want. This year, when Hogan was struggling, we hesitated to put Hunwick in the game because it was so important and you didn't want to burn him. Looking back, we probably should have. But next year, it will be easy to rotate the goalies and we'll see how it goes. Right now, I feel good about where we're at.
Q: Is there one word or one feeling you will take with you out of this season that kind of characterizes exactly what your team went through?
A: I would just say, for a kid like Hunwick, you just never know about a player. You think you know, but he went in and he didn't just play hard, he played well. He played great at times and he made saves I don't know if Hogan could have made. He's so quick and he was so into it. It wasn't just about getting a chance and showing I'm a pretty good player, it was showing I'm a real good player. It's a good lesson for coaches. You just never know. You think you may know your players but we found something out about a player who has been here for three years that we didn't know.
Jeff Arnold covers Michigan hockey for AnnArbor.com. He can be reached at jeffarnold@annarbor.com or 734-623-2554. Follow him at Twitter @jeffreyparnold.