Posted on
Thu, Mar 22, 2012 : 8:47 p.m.
Michigan hockey team not hiding strategies or intentions at NCAA Tournament
By Pete Cunningham
GREEN BAY, Wisc. -- Three teams skated before the Michigan hockey team on Thursday at the Resch Center, and only three different colors of jersey were worn between them.
Cornell, Ferris State and Denver -- the three other teams joining Michigan in the Midwest Region of the NCAA hockey tournament -- wore either white, red or yellow sweaters, each team split in half. Michigan wore its usual seven different colors of uniform, indicative of the line each player is on.
Michigan coach Red Berenson suspects each of the teams go multicolored for practice at their home rinks, but change it up at postseason practice sites, when the opposition can sit in the stands and watch.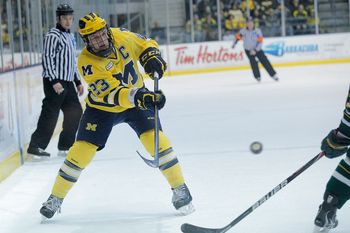 Chris Asadian | AnnArbor.com
"When they come here, it's a little bit of a mystery," Berenson said. "We're not a mystery."
Cornell players sat in the stands at the Resch Center watching Michigan's practice, trying to differentiate one player from the next and guessing what the combination of light blue, blue, navy, yellow, white, red, grey and black meant.
Michigan captain Luke Glendening said it doesn't matter to him if the other team can watch them practice, and that he doesn't change a thing under the circumstances.
"Nothing changes for us, we're just trying to get better every day in practice," Glendening said. "I know they're going to scout us. They're going to see what we have to offer, but we're not going to change anything."
Rather than jersey color, Michigan's focus was on its Friday night matchup with the Big Red (9 p.m., ESPNU).
During a seven-game winless streak in November and December, Glendening said he was worried about the legacy his class would leave. The 2011 class became the first group of seniors to have multiple Frozen Four berths since 2005 and Glendening feared the 2012 seniors would be the class that broke Michigan's 21-year NCAA tournament streak.
"You talk about the legacy of Michigan hockey a lot and I didn't want to be part of the legacy of the first (team) to not make (tournament)," Glendening said.
Just because that's taken care of doesn't mean he's satisfied.
"It's not just enough for us to be here, we're definitely not satisfied just showing up," Glendening said. "We definitely came here to play hockey."
Cornell is in its first tournament since making it to a regional title game in 2006, but also isn't content just being at the party.
"It's a goal that we wanted to obtain, but it's just a stepping stone to the Frozen Four," said Cornell forward and Warren native John McCarron. "We gotta take advantage of our opportunities here."
Cornell fell short of its goal of winning the Eastern Collegiate Athletic Conference tournament last weekend, losing 6-1 to Harvard in a semifinal. Coach Mike Schafer said he was more disappointed in how his team played than the result, but was proud of the way they bounced back the following night in the consolation game against Colgate, winning 3-0 with an NCAA tournament berth on the line.
He said his only goal for his team on Friday is that they play to their ability.
"After (not) getting to the championship game in our league, we had some regrets as a team," Schafer said. "Now we have an opportunity not so much based on results, but laying everything on the line and not having any regrets."
"We showed that we can step up in those big games and compete and just like this weekend it was one and done," said Greg Miller of the consolation final win. "Mentally it prepared us for this weekend so we just gotta come out and play."
Contact Pete Cunningham at petercunningham@annarbor.com or by phone at 734-623-2561. Follow him on Twitter @petcunningham.