Posted on
Fri, Mar 15, 2013 : 5:30 a.m.
Michigan hockey team picking right time to play best hockey of season
By Pete Cunningham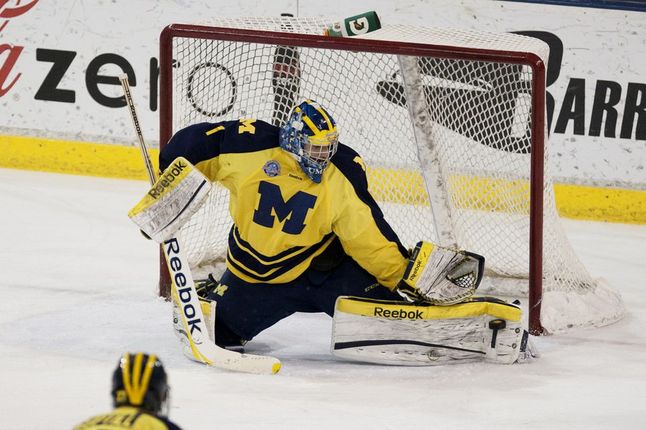 Andrew Kuhn | AnnArbor.com file photo
The
Michigan hockey
team has picked the right time to play its best hockey of the season.
And with the end of the season looming at the next slip up, frankly, it no longer has a choice.
After going 1-7 in the month of January, the Wolverines have gone 7-2-1-1 since and haven't lost a game since February 9. To keep the hot streak and the season alive junior defenseman Mac Bennett has a novel idea of what his team needs to do in its weekend series with Western Michigan.
"Well, we have to win Friday. And then if we win Friday, we've got to win Saturday," joked Bennett.
Though Bennett was joking, that is exactly what Michigan needs to do to keep its season alive. After an atypical year, there is no automatic NCAA Tournament bid waiting for the Wolverines regardless of what happens in the CCHA Tournament. With a sixth place finish in the league standing and nowhere in the discussion of a national ranking, it seems Michigan's only shot at extending the national record 22-year NCAA Tournament streak is by winning the CCHA tournament and garnering an automatic bid.
"There's no room for error, there's no room for looking back or too far ahead because there's nothing to look forward to," said Michigan coach Red Berenson. "It's not like we're a first place team going to be in the tournament because of our season no matter what happens in the CCHA playoffs, which maybe happened in the past."
First thing's first: taking care of No. 3 seed Western Michigan at hostile Lawson Ice Arena in the CCHA quarterfinals. The weekend series is best of three with the teams playing on Sunday if they split on Friday and Saturday.
"We just gotta take it one game at a time," Bennett said. "The confidence we have from last weekend (in the team's sweep of Northern Michigan) I think will definitely carry over we're playing well right now and we just got to continue to do that."
Perhaps a product of personal modesty, Bennett didn't point to the fact that his return from injury has directly coincided with the team's turnaround. In the month of games Bennett missed or suffered an injury in, the team was 3-7.
Michigan was swept by Notre Dame in Bennett's first series back, but hasn't lost since.
"I think it's huge. I think he brings mental energy, he brings positive energy, he brings stability to our defense," Berenson said.
Bennett downplayed his own personal impact simply offering that "it's a lot more fun playing than it watching."
"As a whole everyone's been playing so much better, we've finally got a goaltender behind us," Bennett said in reference to Steve Racine's recent success between the pipes. "Everyone's just playing solid and our goal scorers are scoring goals. We're in a lot better place now than we were in December."
But as well as Racine has played over the past several weeks, Western Michigan goaltender Frank Slubowski has been doing it all year. Slubowski started all 36 games during the regular season and finished with a 15-7-6 record in conference play. His 1.93 goals against average ranked third in the conference but second amongst goalies who played over 1,000 minutes.
With Racine and the defense playing improved, and Western playing, as Berenson put it, "stingy" all season, Michigan may have to win low-scoring, tight games. Michigan only has one win on the season when scoring two goals or fewer and has won just two, one-goal games.
"I think we can (win low scoring tight games)," Berenson said. "But we have to prove it."
"They're the stingiest team in our league and they've got the best special teams in our league, so it's going to take a heck of an effort on our team to get the best out of us," Berenson said.
Pete Cunningham covers sports for AnnArbor.com. He can be reached at petercunningham@annarbor.com. Follow him on Twitter @petcunningham.