Posted on
Sun, Mar 31, 2013 : 5:32 a.m.
Michigan hockey team says future is bright heading into next season
By Kyle Austin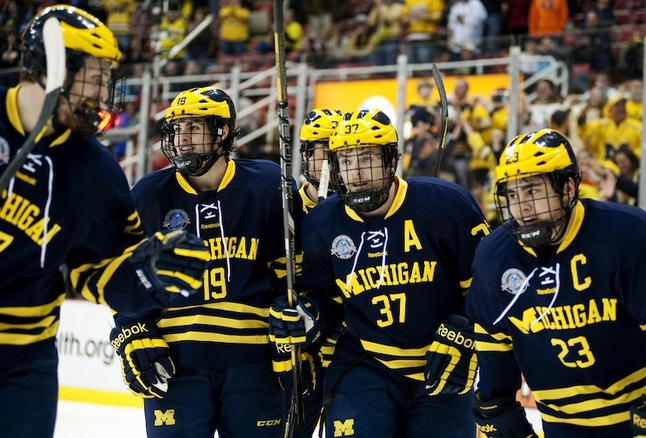 Daniel Brenner | AnnArbor.com
The Michigan hockey team may not have qualified for the NCAA tournament this year for the first time in more than two decades. But it was unbeaten in nine straight games to make the CCHA tournament finals, and ended the season playing its best hockey of the year.
That's why, when coaches and players held their season-ending media conferences this week at Yost Ice Arena, the mood was bright.
"I think it'll help our team next year," Wolverines coach Red Berenson said of his team's finish. "Every team is a different team. It will help our team a lot because they know what they're capable of. They know the feelings, they know all the things they had to do well and better, and then they know the kind of results they can get."
The Wolverines lose just five seniors off of this team and junior defenseman Jon Merrill, who is expected sign a contract with the New Jersey Devils. Of the nine Wolverines that put up 20 points or more this season, seven are eligible to return.
And perhaps the biggest returning piece is in goal, where after shaky goaltending for most of the season, Steve Racine cemented himself as the starter by backstopping Michigan through its win streak.
"I would say there are fewer question marks going into next year than there were this year," Berenson said.
But one question mark will loom large in the coming days: will freshman defenseman Jacob Trouba return for his sophomore year?
He said this week that he's undecided about whether to sign with the Winnipeg Jets or return to Michigan next year. Trouba was voted the league's best offensive defenseman after putting up 12 goals and 17 assists.
Mac Bennett, who was paired with Trouba through most of the stretch run, said if Trouba returns the team would have the chance to do something "really special."
"He was probably the best player on our team this year," Bennett said. "To have him back for another year would be unbelievable."
It he were to leave, Trouba would be the second Wolverines defenseman to leave early along with Merrill.
But beyond that, all of Michigan's defensemen are expected to return, and Berenson said he expects two incoming freshmen to be among the team's top six on the back end next year.
And that's on top of forward J.T. Compher, the incoming freshman projected to be picked in the first round of this summer's NHL draft. Berenson said Tuesday he expects Compher to come in and be one of the Wolverines' top two centers.
When the new Wolverines do convene, Bennett, a junior alternate captain this season, said building a more cohesive group will be key. Both Bennett and departing senior Lee Moffie said this year's team didn't come together off the ice until late in the season.
"If you want to be a better team, the easy way to do that is to get everyone together, whether that's having barbecues or doing whatever we do, just as long as everyone's doing it together," Bennett said.
Michigan also moves to play in the first year of the Big Ten next season, along with Michigan State, Ohio State, Wisconsin, Minnesota and Penn State. Michigan will play each team four times, two home and two away.
"We're going to be in a tough conference," Berenson said. "Let's face it, we were in a tough conference this year, we finished in seventh place. I don't know if we'll have the team to say we can go in there and say we expect to be in first place, ahead of Minnesota, but I wouldn't be surprised."
Berenson also announced part of next year's non-conference schedule, including games against Boston College, Boston University and Michigan Tech and trips to Nebraska and New Hampshire.
Kyle Austin covers sports for AnnArbor.com. He can be reached at kyleaustin@annarbor.com or 734-623-2535. Follow him on Twitter @KAustin_AA.