Posted on
Wed, Mar 21, 2012 : 6:26 p.m.
Michigan hockey team shakes up lines heading into NCAA tournament
By Pete Cunningham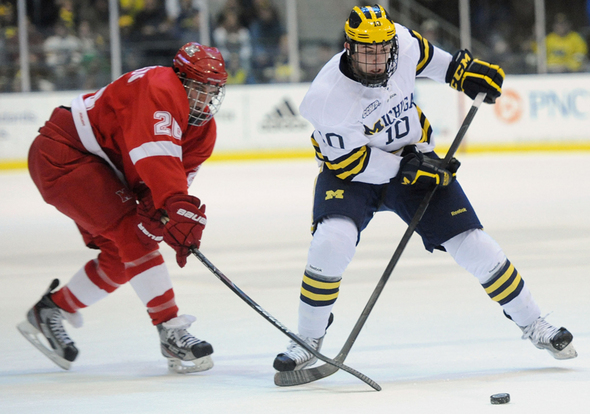 File: Angela J. Cesere | AnnArbor.com
Chris Brown,
David Wohlberg
and
Alex Guptill
have combined for more points than any other line on the Michigan hockey team. Regardless, Michigan hockey coach
Red Berenson
hasn't liked what he's seen lately out of the trio, so he's changing up the lines heading into the team's opening round game of the NCAA Tournament.
Brown will play on the third line with Kevin Lynch and Travis Lynch, switching places with Derek DeBlois when Michigan — top seed in the Midwest Region — takes on Cornell (18-8-7) on Friday (9 p.m., ESPNU) at the Resch Center in Green Bay, Wis.
"I just think the lines were getting stale and especially Wohlberg's line," Berenson said after the team's final home practice before boarding its flight for Green Bay. "I thought they needed a change. I thought they lost their work ethic."
When Michigan was playing its best, no one produced more than "Wohlberg's line." During a nine-game unbeaten streak, the trio amassed 36 points (16 goals, 20 assists).
In the 14 games since, they've had 22 points (12 goals, 10 assists), which isn't unproductive by any means, but Berenson hasn't necessarily been impressed with how the production has come about.
"They were scoring as individuals, but (as a whole), the line wasn't producing," Berenson said. "I just think Wohly's line was missing something, and I think Lynchy's line was missing something. And I like Lynch and Brown together."
In addition to trying to jump-start both lines, Berenson said he likes the thought of adding Brown's size (6-2, 207 lbs.) to the third line along with Kevin Lynch (6-1, 198 lbs.) against Cornell's big-bodied lineup.
"I'd say both of our lines have been playing well, but (Berenson) knew they could play a lot better," Kevin Lynch said. "So he made that switch to spark it and see if they could play better together."
As for making a change this late in the year to lines that have stayed together consistently since the season began, Berenson said he's not worried about hurting anyone's feelings or disrupting on-ice chemistry.
"I'm not afraid to make a change," Berenson said. "You gotta do what you think is best for the team."
Contact Pete Cunningham at petercunningham@annarbor.com. Follow him on Twitter @petcunningham.