Posted on
Fri, Nov 9, 2012 : 5:45 a.m.
Michigan hockey team struggling to find identity hopes Michigan State rivalry can be a rallying point
By Pete Cunningham
Michigan hockey coach Red Berenson received good news from the CCHA on Monday when league officials informed him that Jacob Trouba would be eligible to play against Michigan State this weekend. The freshman defenseman will not be suspended any further for his high hit against Northern Michigan last Friday.
Trouba missed the final five minutes and overtime of Friday's game and all of Saturday's game after being disqualified for contact to the head. The Wolverines gained two points in a shootout win in Trouba's absence Friday, but weren't so fortunate the next night, falling 4-3 to the Huskies.
The Wolverines (3-3-1, 1-2-1-1 CCHA) can certainly use Trouba this weekend, both for his offensive production - two goals and four assists through six games - and his tough style of play in what is always a physical series.
"We're playing a team that's going to play as hard as it can against us, not that every other team doesn't, but it just seems to bring out a little extra in these games," Berenson said. "Trouba's played really well. For a freshman with a lot of hype and high expectations, I think he's played really well."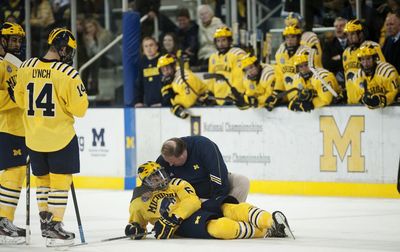 Daniel Brenner | AnnArbor.com
Trouba was the latest in a long list of Michigan defensemen to miss time this year. Jon Merrill is out of the lineup for the foreseeable future
due to a neck injury
, Brennan Serville missed time last week due to what Berenson called a "facial concussion," and Kevin Clare has missed time as well.
Michigan was so thin on the backline over the weekend that forward Jeff Rohrkemper came in as a sixth defenseman on Saturday.
Berenson was pleased with Rohrkemper's play, but knows the defense has to play better as a whole. A big part of that in getting guys back in the lineup.
"We have to be better defensively, we're giving up too many goals," said Berenson, who expects Serville to play this weekend. "We haven't had our whole defense with Jon Merrill out, that's a big piece of the puzzle."
Michigan has given up 4.4 goals per game this season. With two freshman goaltenders, Jared Rutledge and Steve Racine, splitting time in net, it was expected that Michigan's 3.2 goals surrendered per game last year behind fifth-year senior Shawn Hunwick might go up. But the veteran defensive corps was the reason why it wasn't expected to be so drastic.
Senior defenseman Mac Bennett said that with all the adversity the defense has suffered, Michigan as a team is struggling to find an identity.
"I think we're still trying to find ourselves," Bennett said. "We gotta step up our game as a D-corps and just kind of go from there."
Bennett said it's far too early in the season to hit the panic button, though.
"With every other team I've been on since I've been here, I really don't think we've gotten clicking until December at least," Bennett said. "It's early. We've got a young squad, we're still trying to find out who we are."
Berenson thinks the key to finding that identity is simply getting healthy.
"We've got to get everyone in and start gelling like we thought we would," Berenson "We gotta get healthy and get everybody going again."
Bennett said a home-and-home rivalry weekend against Michigan State might be just what the doctor ordered.
"This is a huge, huge rivalry game. Huge weekend for us. Obviously every time Michigan plays State we want to beat 'em, so this could be the weekend that we rally around and try to get something going because it feels really good to beat State."
Michigan hosts Michigan State at Yost Ice Arena on Friday (7:35 p.m.) and travels to East Lansing on Saturday.
Pete Cunningham covers sports for AnnArbor.com. He can be reached at petercunningham@annarbor.com. Follow him on Twitter @petcunningham.