Posted on
Fri, Feb 24, 2012 : 11:34 p.m.
Michigan hockey team upset by last-place Bowling Green, 4-3
By AnnArbor.com Staff
Updated 11:34 p.m.
The Michigan hockey team hadn't allowed more than two goals in a game since a 3-3 tie with Michigan State on Dec. 10.
Since that game, the Wolverines have been one of the hottest teams in college hockey, going 11-2-1 and climbing from unranked to the No. 3 team in national polls.
Those streaks came to a screeching halt on Friday night when Bowling Green - the last-place team in the CCHA standings - scored a pair of third-period goals for a 4-3 comeback win in front of 3,011 at the BGSU Ice Arena.
Trailing 3-2 heading into the final minutes of the third period, Bowling Green got a game-tying goal from Adam Berkle at the 13:13 mark and the game-winner from Bryce Williamson with just 1:24 left to play.
Williamson capitalized on a Michigan turnover deep in the Bowling Green zone.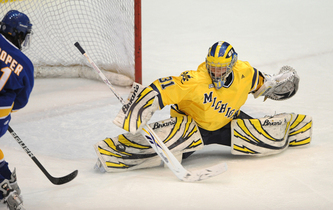 "When you have a lead in the third period, you should be able to find a way to sustain that lead," Michigan coach Red Berenson said in a post-game press conference. "But we gave up two goals that we shouldn't have given up. We can't play like that."
The loss cost Michigan its outside shot at a CCHA title, although the effort became moot roughly 20 minutes later.
No. 1-ranked Ferris State (22-8-4, 16-6-4-1) entered the weekend needing a single point to clinch the CCHA title. The Bulldogs skated to a 1-1 tie at Western Michigan. WMU won the shootout, moving the Broncos into a second-place tie with Michigan.
Michigan (20-11-4, 14-9-4-1) took a 3-2 lead on an Alex Guptill goal at the 17:12-mark of the second period. The Wolverines, who were 16-1-3 when leading after two periods, couldn't hold on.
"We just didn't do the little things right," said senior forward David Wohlberg. "We knew coming in what we had to do and we just didn't do it. Period."
Both teams started hot, scoring goals in the first minute of the game.
Michigan took a 1-0 lead on Phil Di Giuseppe's goal just 38 seconds into the game. Chad Sumsion answered just six seconds later for Bowling Green (10-20-5, 5-18-4-3), which has lost its last four games and seven of its last nine.
Wohlberg and Bowling Green's Camden Wojtala added goals later in the first period for a 2-2 score at the first intermission.
Michigan goaltender Shawn Hunwick finished with 25 saves and Ferris State's Andrew Hammond stopped 27 shots.
Wojtala's goal came on the power play, snapping a nine-game drought that saw the Falcons fail to capitalize on 35 straight extra-man opportunities.
Bowling Green had also allowed a power-play goal in five straight games, another streak that came to an end on Friday. The Wolverines were 0-for-3.
"We knew they were a desperate team, but those are proud players and they don't want to be embarrassed," Berenson said of Bowling Green. "They came out here and they outworked us, outplayed us and outscored us."
The teams wrap up the regular season with a 7:05 p.m. game Saturday in Bowling Green, Ohio.