Posted on
Wed, Feb 23, 2011 : 5:59 a.m.
Michigan hockey team won't worry about standings, preps for playoffs and more notes
By Jeff Arnold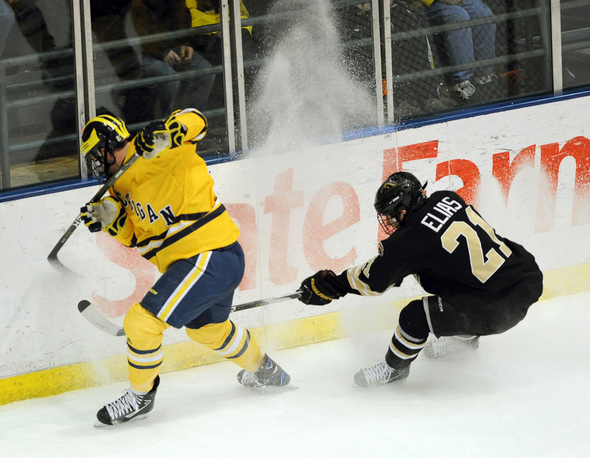 Lon Horwedel | AnnArbor.com
Michigan hockey coach Red Berenson isn't as concerned with where his team finishes, but rather, how.
Although the No. 10-ranked Wolverines have won four consecutive games and can finish no lower than second place in the CCHA standings, Berenson has concerns.
The Wolverines surrendered seven goals in two games at home despite registering their second straight series sweep against Western Michigan. They struggled with turnovers - especially on Saturday in a dramatic 5-4 overtime win, when two misplayed pucks in the offensive zone led to breakaway goals.
Goalie Shawn Hunwick wasn't always sharp, but make key saves when he had to, bolstered by a Michigan offense that found its touch with 11 goals in the final home series of the regular season. Yet, heading into this weekend's road test at Northern Michigan, whether Michigan finds a way to claim a regular-season league title isn't Berenson's biggest worry.
Michigan (21-9-4, 17-7-1) trails first-place Notre Dame by one point. A win Friday, coupled with an Irish loss against Western Michigan, would give the Wolverines a two-point lead heading into the regular-season finale on Saturday.
Given the fact the Wolverines can't be passed by third-place Miami, Berenson chooses to focus on the strides his team can make before the playoffs begin in two weeks.
"It's about us playing better and finishing strong," Berenson said on Tuesday. "I think we're finding ways to win games that we necessarily haven't been the better team or where we have given up too many scoring chances or we didn't kill a penalty we should have. ... But when the smoke cleared, we still won.
"Is that a good sign? Maybe. But we can't keep giving up seven goals a weekend and expect to win games."
Last season, the Wolverines entered the CCHA playoffs as the No. 7 seed. Hunwick was still finding his stride in net and Michigan was struggling to clump wins together.
This year, Berenson senses a difference.
"I think our team has a little more confidence, I think our team is a little better defensively, we're getting better goal-keeping and the penalty-killing has been a little better," he said. "But we're still working - we have to get better. But I think our team is better in a lot of areas."
The Wolverines have swept two straight series. While Berenson would prefer to avoid too many nail-biting finishes like he saw Saturday, his players can appreciate their ability to overcome adversity.
"We've come back in a lot of games when we've been down a goal in the third (period)," senior captain Carl Hagelin said. "That's something new that we haven't done in any of my other years so obviously, if you can find a way to win games, it's going to be key in the playoffs."
Playoffs? You're talking about playoffs?
Michigan's strong second half has not only kept the Wolverines in the chase for a CCHA title, but out of the straits they were in last year. Unlike last year when the Wolverines had to play a first-round series at Lake Superior State, the Wolverines have not only clinched a first-round bye, but also a home series in the second round.
The top five teams in the league receive first-round byes before the tournament is re-seeded. Michigan will host one of the second-round match-ups when teams need to win a best-of-three series to advance to the CCHA semifinals at Joe Louis Arena.
Michigan will enter the playoffs having won 11 consecutive games at home.
"I think it's a good way for our fans to look forward to the playoffs," Berenson said. "They're into it and they can see our team is right there and we've just got to give them something to cheer about. But they can't wait to support this program ... and you know there is going to be a buzz in the rink."
It's a feeling Berenson's players appreciate - especially those who played their final regular-season game with Saturday's senior night victory.
"I love playing at Yost," senior alternate captain Louie Caprousso said. "It's probably the best place I have will ever play in my life. I wish I could play here another four years. It would be cool."
Honorary Michigan Man?
As many fans as have come to embrace the Wolverines during this year's CCHA title push, one fan's name carries a little more weight.
Detroit Tigers third baseman Brandon Inge has become a regular around Yost, learning to skate in the mornings while also becoming a familiar face at home games. Inge, who remains active with local charities, has two season tickets and has attended several games.
"I have the utmost respect for Red Berenson," Inge said in a story that appeared in the Detroit Free Press. "I've met him three or four times, and he's a class act. If you don't respect him as a person and for what he does, then you probably don't have a heartbeat."
The respect goes both ways.
Berenson he has gotten to know Inge a little bit, calling him "just a regular guy." Inge attended The Big Chill At The Big House as well as Michigan's final practice when he was amazed at the level Hagelin and his teammates play at.
Since then, the year-round Ann Arbor resident has gotten more into the game, adopting the Wolverines as his team.
"He has really become a Michigan fan, and that's been kind of fun to see," Berenson said. "He seems to have embraced hockey and skating. When he came here, he couldn't skate. But he's been skating and he's talking to our guys about his equipment, and he's going to start thinking he's a hockey player.
"But he's just a regular guy, and it's nice to see that. He's almost like a normal student here. Only a little older."
This and that
With his two dramatic goals and two assists against Western Michigan, Hagelin was named the CCHA's Offensive Player of the Week. Hagelin is sixth among active league players in career scoring with 145 points, which ties him with Miami's Andy Miele. Caporusso ranks eighth with 137. ... With Friday's 6-3 win over Western Michigan, Michigan reached the 20-win mark for the 24th straight season. ... With 17 CCHA victories, Michigan holds the tie-breaker advantage over both Notre Dame and Miami. ... The Wolverines will depart for Northern Michigan on Thursday, flying to Marquette and practicing there Thursday night. Michigan has won two straight games against Northern, the most recent coming in the CCHA tournament championship game that sent the Wolverines to their 20th straight NCAA Tournament appearance last spring.
Jeff Arnold covers Michigan hockey for AnnArbor.com and can be reached at (734) 623-2554 or by e-mail at jeffarnold@annarbor.com. Follow him on Twitter @jeffreyparnold.