Posted on
Thu, Mar 31, 2011 : 5:58 a.m.
Michigan hockey coach Red Berenson says multiple Frozen Fours are nice, but a national title would add to the legacy of his senior class
By Pete Cunningham
As the Michigan hockey team prepares for its 11th Frozen Four appearance in the past 20 seasons, the Wolverines can lean on their seniors, who are making their second trip to the college hockey showcase.
"It's an honor to be at another Frozen Four, especially for the senior class," said senior alternate captain Louie Caporusso during a teleconference on Tuesday. "It was a great experience freshman year."
Though how many Frozen Fours a class plays in may be a measuring stick for some teams, Michigan coach Red Berenson said the Wolverines are held to a different standard.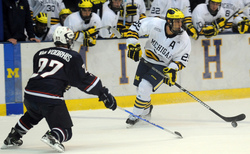 AnnArbor.com file photo
"That's good, but I can name you a lot of classes that have had three or four Frozen Fours," Berenson said. "The thing that really adds to your legacy is when you win a national championship.
"That's it. Bottom line."
Michigan won the national title in 1996 and 1998 and hasn't reached the title game since 1998, losing semifinal games in 2001, 2002, 2003 and in 2008, when Caporusso and the other seniors were freshmen.
The Wolverines (28-10-4) face North Dakota (32-8-3) on Thursday, April 7, in St. Paul, Minn. (8:30 p.m., ESPN2). Minnesota-Duluth (24-10-6) and Notre Dame (25-13-5) play at 5 p.m. The title game will be played at 7 p.m. April 9 (ESPN).
"We've had former players texting our coaches, calling us and sending our players messages saying, 'make sure the team knows why they're there,' " Berenson said.
The Fighting Sioux are unbeaten (14-0-1) in their past 15 games, outscoring opponents 78-20 in that span, and they have won 11 consecutive games.
Berenson referred to the game as a David vs. Goliath matchup when addressing players earlier in the week, with Michigan as the underdog. That's not a familiar role for the team with the most national championships (nine) in NCAA history.
After a light skate on Tuesday, junior defensemen Brandon Burlon saw this weekend as the perfect opportunity to add to the program's legacy, pointing out a vital detail in Berenson's Biblical reference.
"David won the battle," Burlon said.
Genoway is a familiar face Michigan and North Dakota are two of college hockey's most storied programs, yet next week's semifinal game will be the first time the teams have played since 2007, when the Fighting Sioux eliminated the Wolverines in the first round of the NCAA tournament.
Normally a four-year game hiatus would mean no player on either team had ever faced the other team, but North Dakota defenseman Chay Genoway is an exception.
Genoway had two assists in North Dakota's 8-3 win over Michigan in 2007. During the ninth game of what was supposed to be his senior season (2009-10), however, Genoway was slammed head first into the boards and suffered a concussion so severe he not only couldn't play again during the season, but couldn't even resume his studies until June.
Eventually, Genoway was granted a medical redshirt by the NCAA and was healthy enough by October to play again. Now, 18 months after suffering an injury that nearly ended his hockey career, Genoway is a Hobey Baker finalist - awarded to college hockey's most outstanding player - and preparing to face off against Michigan.
"I'm sure they have somewhat of a similar style of play," Genoway said. "They got a really strong tradition there at the University of Michigan, so it's going to be really exciting to play against them again."
Burlon may return After not being able to eat solid foods last week, losing close to 20 pounds and as a result having to sit out during the regional round of the playoffs. Brandon Burlon skated at Monday and Tuesday's practices. He said he's regaining the weight steadily.
Burlon said he expects to play next weekend, but a final determination has not been made.
A potential rematch There will be no rematches in the semifinal round of the Frozen Four as Michigan has not played North Dakota since the 2006-'07 season and Notre Dame and Minnesota Duluth haven't played since 2008-'09.
The only scenario in which the championship final would follow the same trend is if Michigan and Minnesota Duluth advance. Michigan and Notre Dame - both members of the CCHA - have played three times this season with the Wolverines going 2-1 in the series, winning the rubber match in the third place game at the CCHA playoffs, 4-2.
North Dakota and Minnesota Duluth, members of the WCHA, have played three times with North Dakota holding the edge in the series 2-1. North Dakota played Notre Dame twice and went 1-0-1.
Pete Cunningham covers sports for AnnArbor.com. He can be reached by e-mail at petercunningham@annarbor.com or by phone at 734-623-2561. Follow him on Twitter @petcunningham.