Posted on
Wed, Dec 7, 2011 : 12:58 p.m.
Michigan hockey team's weekend series with Michigan State is more important than usual
By Nick Baumgardner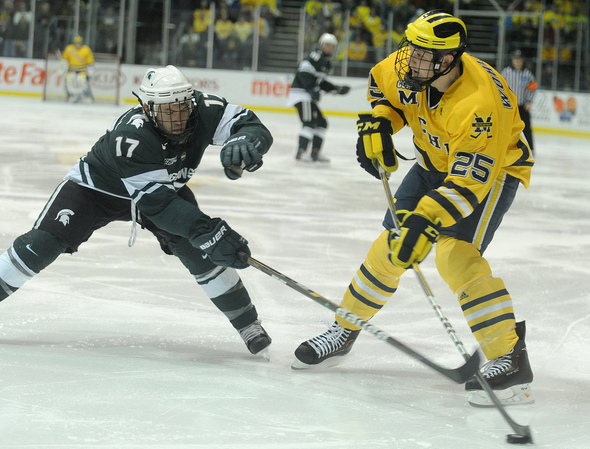 Angela J. Cesere | AnnArbor.com
Whenever Michigan plays Michigan State in anything, it's a big deal.
But for the Michigan hockey team, this weekend's series against the Spartans takes on added meaning, and extra importance.
And, yes, that is possible.
"It's a huge series for our team, and it's about taking a step in the right direction," Michigan captain Luke Glendening said. "It's obviously a rivalry, and that's going to be at the forefront. But, for us, it's about taking a step forward.
"We can't take any more steps back."
The two-game series starts at 7:35 p.m. Friday at Yost Ice Arena before wrapping up at 6:35 p.m. Saturday in East Lansing.
Michigan, once the country's top-ranked club, will enter the final series of the season's first half with an 8-8-2 record (4-6-2 CCHA), and a 1-6-1 mark in its last eight games.
So, obvious in-state hatred aside, this weekend provides the Wolverines one final chance to kick-start things before taking a 19-day holiday break.
"We've got to be a better team this coming weekend against Michigan State," Michigan coach Red Berenson said. "It's the last weekend of the first half, and whether it's the standings or the rivalry, it all points to a huge weekend for Michigan.
"We built some confidence up, and now we've got to get that momentum and show up on Friday."
The momentum Berenson is referring to came via a 1-0 overtime road win at Alaska on Saturday.
The victory, clinched on what Berenson dubbed a "weird goal," snapped a seven-game winless streak, giving the Wolverines their first win in nearly a month.
Berenson said he wasn't sure how important the win really was in the grand scheme of things, but at the time, it felt awfully big.
His players agreed.
"I don't think I've ever been as excited for a win in my life," freshman forward Phil Di Giuseppe said. "I don't think I've ever gotten onto the ice that fast to congratulate one goal.
"It was huge for our team, to get out of that slump (was big)."
This weekend will provide an opportunity for Michigan to build on its Alaskan momentum, but it'll also provide a unique experience for several youngsters.
The Wolverines have gotten major contributions from several first-year players -- Di Diuseppe and Alex Guptill are tied for the team-lead in goals -- while Mike Chiasson, Zach Hyman, Travis Lynch and Brendan Serville have seen action in every game this season.
Friday, though, will be their first experience against Michigan State -- an opportunity they feel they're ready for.
"When I was 13, I was fortunate to come down (to Ann Arbor) and check things out," said Guptill, an Ontario native. "And Michigan (ending up beating Michigan State) on a Friday night, and that's when I really fell in love with the school.
"We've never experienced it because we are freshmen, but once we step out on the ice and see how the crowd's going, it's going to be a lot of fun."
Michigan's got two chances against its arch-rival to end an otherwise frustrating first half on the right foot.
From there, who knows.
Hockey's a game of momentum, and once it starts rolling, it can be difficult to stop.
"We're not looking to lose one more game again," Guptill said. " We've just got to keep rolling and do what we can with it."
Nick Baumgardner covers Michigan sports for AnnArbor.com. He can be reached at 734-623-2514, by email at nickbaumgardner@annarbor.com and followed on Twitter @nickbaumgardner.