Michigan hockey to find out Friday if Jon Merrill can return to depleted defensive corps
Posted on Thu, Jan 3, 2013 : 5:40 p.m.
The Michigan hockey team expects to receive an update on defenseman Jon Merrill's status Friday, as the team hopes to receive a jolt to a defensive corps that has thinned considerably in the last two weeks.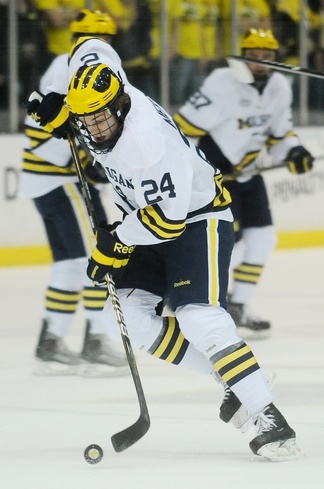 AnnArbor.com file photo
Merrill, out since the preseason with a cracked vertebrae, is one of three key Michigan defenseman not currently available to play heading into a Friday's exhibition against the U.S. National Team Development Program at Yost Ice Arena (7:35 p.m.).
Junior Kevin Clare is out indefinitely with nerve damage in his shoulder stemming from an injury that kept him out of the final three games of the first half, Berenson said Thursday afternoon.
Clare is healthy enough to practice, Berenson said, but doesn't have enough strength for game action. He suited up for both GLI games last weekend but was used only sparingly Sunday against Michigan State.
His return won't likely come in the near future.
"I hope it's weeks, but it could be months," Berenson said.
The third missing Michigan defenseman, Jacob Trouba, is in Ufa, Russia playing for Team USA in the World Junior Championships. Trouba will play in the gold medal game against Sweden Saturday, and is expected to be in action on Tuesday against Bowling Green.
In the meantime, forward Jeff Rohrkemper will suit up at defense Friday, Berenson said.
While Trouba's return is imminent and Clare's is firmly in the future, Merrill's could go either way. He returned to practice over Christmas break, and Berenson said the adjustment for Merrill would be minimal if he were to return next week.
"He'd be one of our best players if he started playing," Berenson said.
Berenson said he's seen similar injuries have a 12-week recovery timetable -- the amount of time that has now passed since Merrill's Oct. 9 injury.
And while he's hopeful that will be the case with Merrill, he cautioned that nothing will be known until the doctor's appointment.
"We'll see," Berenson said. "I don't want to get my hopes up, but it's a possibility."