Michigan hockey tops Ferris State 4-1 for third straight win
Posted on Fri, Mar 1, 2013 : 9:56 p.m.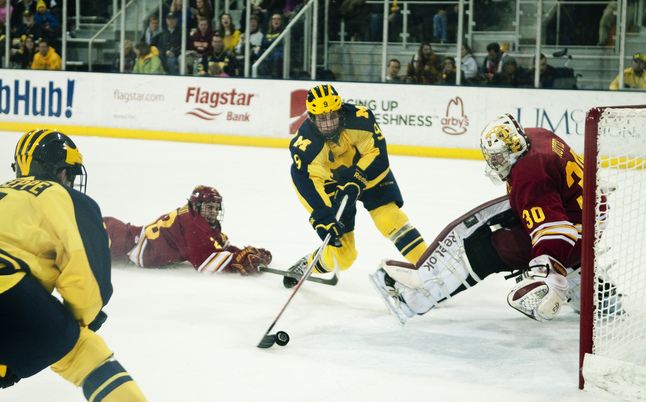 Daniel Brenner | AnnArbor.com
Updated at 10:45 p.m.
Michigan hockey is on its longest winning streak since October, and has a chance to keep the streak going at home and into the playoffs.
The Wolverines topped Ferris State, 4-1 Friday night at Yost Ice Arena, jumping out to a two-goal lead and shutting down the Bulldogs defensively.
The game marked the Wolverines' third straight win, something it hasn't accomplished since its second series of the year.
With Michigan's win and Northern Michigan's win over Lake Superior State, the Wolverines now control their own destiny in the race for home ice advantage in the first round of the CCHA playoffs.
If Michigan can top the Bulldogs again in their regular-season finale Saturday night, it would move into one of the top eight tournament spots and host a best-of-three series next weekend.
"We've obviously had our struggles, but we're playing our best hockey right now," Michigan forward Derek DeBlois said. "Obviously we have the best fans in the country, we feel, and playing at home would just be tremendous."
Freshman Steve Racine made his third straight start in goal and recorded one of his best outings of the season, allowing just one goal for the second time in 15 starts.
After a bumpy year with three goalies, Racine has used the latest three-game stretch to position himself to be the Wolverines' go-to guy in the playoffs.
"We've talked about this all year, it's just finding a number one goalie, and right now Racine is that guy," Michigan coach Red Berenson said. "He's got three pretty good games under his belt, I think our team has more confidence in him and that's going to help them have more confidence in themselves."
Michigan had one of its best starts of the season, scoring two goals in the first 11 minutes of the game.
The Wolverines' fourth line produced the first goal two minutes, 40 seconds into the game, when Travis Lynch took a blast from the blue line and Zach Hyman tipped in the rebound.
Six minutes later, the Wolverines scored another rebound, this one off the stick of DeBlois, who now has six goals in his last seven games, after scoring only three goals up to that point.
"I thought it was important that we got the first goal," Berenson said. "That was early, and it was a game where we looked like we were vulnerable, but our goalie made some good saves at the right time, and we got some opportune goals."
The Bulldogs got on the board with three minutes left in the first, when Travis Ouellette scored a power play goal with Racine sprawled out in the crease.
But the Michigan defense clamped down from there, holding the third-highest scoring offense in the CCHA to one goal. It marked the first time since Dec. 15 that Michigan has given up one goal or fewer.
"I think the defense played strong and our goalie played strong and a couple of our forwards came back and saved sure goals," Berenson said. "It's a good team effort defensively."
Luke Moffatt gave Michigan its insurance with a highlight-reel goal, deking a Ferris State defenseman before tucking a shot around the skate of FSU goaltender Charles Williams while falling over.
And in the third, Lee Moffie notched Michigan's final, scoring on a long shot that deflected off a Ferris State defenseman.
The Wolverines have now scored four or more goals in six straight games, going 4-2 in that stretch.
"I think we're getting a total effort from everybody," Hyman said. "Some games before we'd have one line going and three lines would be off but now we're getting four lines going. That's huge for us going forward."
The Wolverines and Bulldogs will face off at 7:35 p.m. Saturday night in both team's regular season finale. The game will also mark Michigan's senior night.
Despite its recent success, at 13-18-2 overall Michigan would still likely have to win the CCHA tournament to keep its 22-year NCAA tournament streak intact.
But this team's gone through adversity all year, and has found a way to play its best hockey at the end of the season.
"It's been a battle all year," Berenson said. "You just can't blueprint or write down everything that you want to happen to make it happen. It's like I told our players, it's not what happens to you it's what you do about it, how you handle it, and I think we've handled it well