Posted on
Thu, Oct 27, 2011 : 11:18 p.m.
Michigan hockey team's power play comes to life in 5-2 win over Ferris State
By Pete Cunningham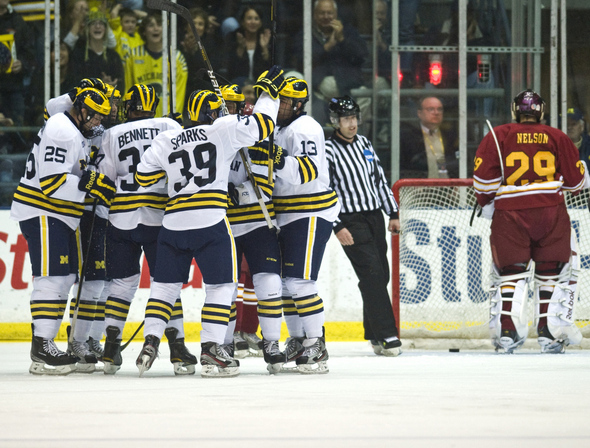 Joseph Tobianski I AnnArbor.com
The
Michigan hockey
team scored more goals in a five minute, 12 second-span on Thursday night than any team has in an entire game against Ferris State this season.
The surge of offense would be all the Wolverines would need as they opened a two-game series with a 5-2 win over the Bulldogs at Yost Ice Arena.
Ferris State entered the game with the lowest goals-against average (0.83) in the country.
"It's good to score against a team that doesn't allow goals," Michigan coach Red Berenson said after the Wolverines' first CCHA win of the season. "We knew goals would be precious and maybe that's why we played a little more opportunistic."
More coverage: Photo gallery
Berenson was pleased that Michigan's offensive flurry came in odd-man attack situations. Ferris State came into the contest second in the nation (27 of 28) on the penalty kill, while Michigan had struggled to convert on the power play (5 of 29) through the first six games of the year.
"We can still take a couple of steps, but we definitely got a little more confidence out there on the power play today," Berenson said.
While the scoresheet will only reflect two of the second period goals were on the power play, Travis Lynch's deflection goal off of a Mac Bennett slap shot -- which put Michigan up 2-0 at the 8:08-mark -- came while Michigan had an extra skater. Michigan goaltender Shawn Hunwick had left his net because of a long-delayed penalty.
"We watched what they did on the penalty kill in our power play meetings, and it felt pretty good," said David Wohlberg, who scored on the power play following Lynch's goal. "You see their numbers, and they're pretty good on the kill."
Michigan (5-1-1, 1-1-1-1) pushed the pace and possessed the puck for most of the first period, but most of its shots were off the mark, or being blocked by Ferris State defenders. Michigan took 22 shots, but Ferris State goalie Taylor Nelson only had to make seven saves in a scoreless first period.
It appeared Michigan was more determined to get in behind the Ferris State defenders to start the second, but it backfired when Chris Brown ran into Nelson just 13 seconds into the frame.
Shortly after killing the penalty, Phil Di Giuseppe put Michigan on the board with its first power play goal at the 3:12 mark. Giuseppe scored into an empty net late in the third.
Ferris State (6-1-0, 2-1-0-0) twice narrowed the lead to two goals -- at the end of the second, and at the 13:02 mark of the third to make it 4-2 -- but Michigan was able to answer before the Bulldogs were able to build any momentum.
"For whatever reason, I thought we looked lethargic. We had low energy until we fell behind by three," said Ferris State coach Bob Daniels. "It wasn't until we fell behind that I sensed a little urgency to our game.
"A two goal lead's one of the worst leads in hockey, so it was fortunate to get a nice balance and put the puck in the net at that point of the game," said Derek DeBlois, whose goal in the third period put Michigan up 4-1.
Hunwick finished with 28 saves and Nelson with 23. Both Ferris State goals came on the power play, two more than Berenson would like to see.
"We can't be happy with giving up two power play goals," he said.
The teams complete their series at 7:35 p.m. Friday at Yost.
Pete Cunningham covers sports for AnnArbor.com. He can be reached at petercunningham@annarbor.com or by phone at 734-623-2561. Follow him on Twitter @petcunningham.