Posted on
Sat, Feb 18, 2012 : 9:38 p.m.
A.J. Treais overtime goal gives Michigan hockey a 3-2 win over Northern Michigan
By Pete Cunningham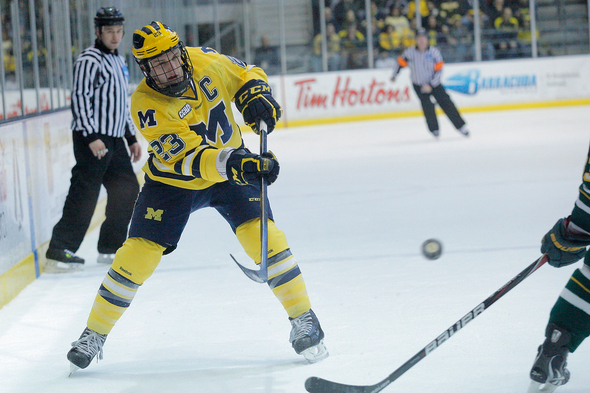 Chris Asadian | AnnArbor.com
Updated 9:38 p.m.
There's just something about senior night for the Michigan hockey team at Yost Ice Arena. It brings out the best in, who else: the seniors.
And who better to be the star on senior night than the player with the 'C' on his chest.
Senior captain Luke Glendening got the night started with his career-best eighth goal of the season and finished it with an assist to A.J. Treais on the overtime game-winner in a 3-2 victory over Northern Michigan.
One minute, 20 seconds into the extra session, Glendening sent a cross-ice pass to Treais. Wildcats goaltender Reid Ellingson never had a chance.
Last year, Carl Hagelin set the bar pretty high for senior night heroics, scoring a game-tying goal with one minute left in regulation, then the overtime winner with less than 3 seconds on the clock.
Glendening did his best to follow the act of his former co-captain.
"I'm glad I can help in any way I can, but I'm just really glad the team won," Glendening said. "It's kind of weird to think that this could be my last game here, but I'm just really happy the team did well tonight and pulled out the victory."
Glendening came to Michigan (20-10-4, 14-8-4-1 CCHA) as a preferred walk-on, with no eventual scholarship or playing time guaranteed. Within weeks of arriving in Ann Arbor, coach Red Berenson said he knew he had himself a gem.
That gem shone brightest on Saturday.
"Obviously there's a scholarship now, but there wasn't an issue about money (when Glendening came), he just wanted to come to a good program and a good school," Berenson said. "He blossomed into the team leader, and the captain."
Related content: Photo gallery | Boxscore
When Glendening sent the pass to Treais, it evoked a premature celebration from Greg Pateryn. Treais had scored six goals in six games heading into the night, and extended his career high-point streak to seven games on an assist to Glendening to put Michigan up 1-0 in the second period.
Treais is playing the best hockey of his career. Pateryn knew the game was over.
"The way he's been putting the puck in the net, I kinda was a little premature on my celebration," Pateryn said. "My gloves weren't off, but hands went up. ... Thankfully, he put it in."
Michigan held a 2-1 lead heading into the third period, but an Andrew Cherniwchan tying goal early in the period made for a tense final 18:45 of regulation. Michigan goaltender Shawn Hunwick made eight of his 26 saves in the period, Ellingson made 11 of his 32.
Late-game heroics are great for fans, great for highlight reels and great for headlines. But Pateryn and Glendening were one of several players to say earlier this week they hoped the game wouldn't come down to the waning moments.
With it now in rear-view mirror, they could appreciate it a little more.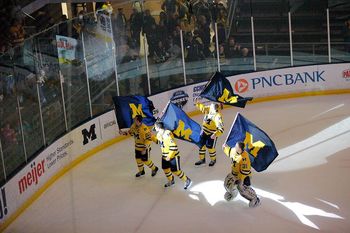 Chris Asadian | AnnArbor.com
"We've been fortunate both times, I'll tell you that. It'd be nicer if we could just win in regulation," Glendening said with a laugh. "Hopefully next year they'll figure that out."
Glendening, Pateryn and fellow seniors Hunwick and David Wohlberg took a lap around Yost following the win and kissed the block 'M' at center ice before exiting to the locker room.
"It's kind of bitter sweet when you think about all the good memories that you had here, but then you realize that you're going to miss this place," Pateryn said.
But it's likely not the last time they'll play in front of a home crowd.
The win clinched Michigan a top-five finish in the CCHA standing and a first-round bye in the conference playoffs. If Michigan finishes in the top four, it will host a second round playoff series. If the Wolverines finish in fifth -- still a possibility -- they will be on the road.
Those scenarios were far from anyone's mind on Saturday.
"All we can do is win our games," Berenson said. "As long as we win our games, we'll be in a good position."
Contact Pete Cunningham at petercunningham@annarbor.com or by phone at 734-623-2561. Follow him on Twitter @petcunningham.