Posted on
Sun, Mar 24, 2013 : 4:31 p.m.
Michigan hockey's 22-year NCAA Tournament streak snapped with CCHA final loss to Notre Dame
By Pete Cunningham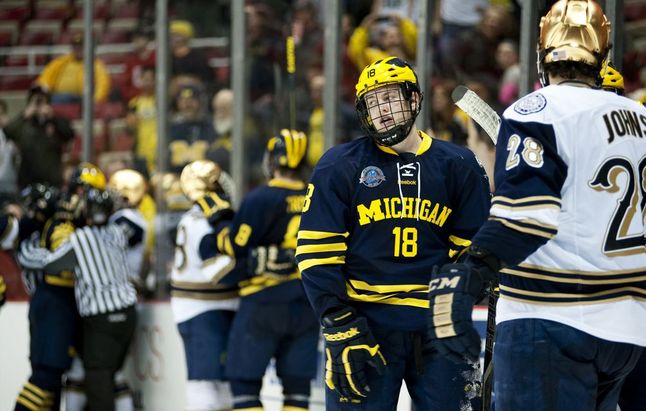 Daniel Brenner | AnnArbor.com
Updated, 6:40 p.m.
DETROIT -- Twenty-two years is a hell of a run.
And that's exactly what the Michigan hockey team had to nearly make it 23 consecutive NCAA Tournament berths.
But Notre Dame put an end to Michigan's nine-game unbeaten streak with a 3-1 win in the CCHA Tournament championship game on Sunday at Joe Louis Arena.
The loss ends Michigan's chance at a national record 23rd consecutive NCAA Tournament berth. With a sub-.500 record, Michigan needed to win the tournament and secure the league's automatic bid to extend its streak.
Michigan's unlikely run at the championship included five straight CCHA playoff wins as Michigan rose all the way from a No. 7 seed to the championship game. Two months after being eight games under .500 and in the basement of the league standings, Michigan found itself fighting for it's tenth CCHA tournament title and extend its national record streak.
It was one hell of a run.
"This team has come a long way," said senior alternate captain Lee Moffie shortly after game's end. "At the beginning of the year, this was not a close team, off the ice, we had issues."
Moffie credited fellow captains Kevin Lynch, A.J. Treais and the rest of the seniors for the bringing the team together in time for the magical postseason run.
In 2010, when this group of seniors were freshman, Michigan made a similarly unlikely run from the No. 7 seed all the way to a conference championship. This year was different, Moffie said, because it was their team.
"I feel like we were almost passengers on that ride and we were kind of leading this ride. It was a lot different," Moffie said. "Us three and the rest of the seniors we really helped our team come together, I feel like, and for that I'm really proud."
More coverage: Photo Gallery | Boxscore
With the loss Michigan finishes the year one game under .500 and therefore ineligible for an at-large NCAA bid.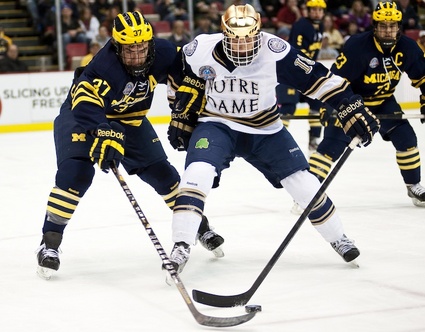 Daniel Brenner | AnnArbor.com
On a weekend when the now defunct CCHA went by the motto "Celebrate the Legacy" Michigan tried to add another chapter to its own. But Michigan's streak, much like the league, are now no more.
Michigan dug itself a hole in the middle of the season, going 1-7 in the month of January. Then Steve Racine was put in net in the middle of February, not because he had played well, but because it was simply his turn. He didn't relinquish that turn until Sunday night when he lost his first game as a starter since Dec. 14.
It was one hell of a run.
Michigan didn't need to erase two months of bad hockey on Sunday. All it needed was to play 60 minutes of its best. That's exactly what it got out of Racine who finished with 30 saves. He was awarded All-CCHA Tournament honors, two months after only being given a start due to process of elimination.
"That might have been his best game of the season," Michigan coach Red Berenson said. "Good for him. We needed that. Any time a team outshoots you like that in the first period your goalie's got to be ready and he was ready."
Notre Dame outshot Michigan 33-21 in the game and 18-6 in the first period. Regardless, it was Michigan who led 1-0 after Derek DeBlois scored on a shorthanded goal in the first period.
DeBlois led an odd-man rush after an Irish giveaway in the first period. Steven Summerhays made the initial save but was way out of position on the rebound as Jacob Trouba fed a pass to DeBlois at the mouth of the goal for the easy tap in.
Anders Lee tied the game in the second period, squeezing the puck between Racine's leg pad and the goalpost.
"He was a wall at the beginning of the game and pretty much the whole tournament so for us to get that first (goal) was, it was a relief," said Lee. "It just gave some confidence to the boys because we were pounding shots left and right. For us to finally get one was definitely a huge break for us."
Despite taking three penalties in the second period, Michigan escaped with the score still tied 1-1. But Austin Wuthrich scored 29 seconds into the third period to break the tie and give Notre Dame the only lead it would need.
Notre Dame scored an empty-netter later in the period to secure the win.
"After two periods I thought our team would bounce back in the third and they tried, but that first goal in the first shift...goals were precious tonight, you knew there wouldn't be many of them and giving up that goal, that was a tough one," Berenson said. "We had a couple isolated opportunities (after that) but couldn't get it done."
Racine hung his head following the final buzzer and Treais skated over to console the freshman, who showed signs at the end of the season that it will be he who leads Michigan on future Big Ten and NCAA Tournament runs.
"I didn't think really anything had to be said. He was just really upset, and it's not his fault. I mean we wouldn't have even been in that game if it wasn't for him," Treais said. "He was the first person I saw and I went right over to him and gave him a pat on the back."
It was one hell of run.
Pete Cunningham covers sports for AnnArbor.com. He can be reached at petercunningham@annarbor.com. Follow hom on Twitter @petcunningham.