Posted on
Thu, Nov 15, 2012 : 10:56 p.m.
Michigan loses to Notre Dame after game-winner from Bryan Rust, Pioneer grad, brother of former UM captain
By Pete Cunningham
Updated at 11:16 p.m.
Former Michigan alternate captain Matt Rust was in the stands at Yost Ice Arena on Thursday on what had to be a night of mixed emotions.
Rust watched his former team drop its home series opener to Notre Dame 3-1, but it was Rust's younger brother, Notre Dame junior forward Bryan Rust, who provided the game-winner in the third period for the Fighting Irish.
As a product of the USA Hockey Development program in Ann Arbor and a graduate of nearby Pioneer High School, it was a pretty special way for Rust to get his first ever goal against his brother's former team.
"It's obviously a blast coming back to Michigan because I always have a lot of family and friends come out here," Rust said. "It was nice to have my brother in the stands. He finished his hockey career and he's back in school here. He played four good years here, so it's fun to have him in the crowd for a change instead of me being always the little brother in the crowd."
Rust hustled to a loose puck behind the Michigan net and broke a 1-1 tie on a wraparound goal with five minutes, 38 seconds remaining in the third period. The Irish added an insurance goal with 1:26 left to play.
Both goals were more bad bounces than bad goaltending on a night when freshman goaltender Steve Racine kept Michigan in the game with 29 saves, including 12 in a second period when Notre Dame was the better team.
"I thought Steve played really well today, probably one of his best games at Michigan. I thought he hung in there really well. It's too bad we couldn't help him out," said Michigan senior forward A.J. Treais.
Treais nearly helped Racine out four minutes into the third period, but the NCAA leader in goals scored couldn't convert on a breakaway and on the next shift his linemate Alex Guptill had a shot ring off the crossbar.
"I had a chance to get our team back in it and Gups had a shot at it, but that's the way it goes in this league, goals are pretty precious," Treais said.
"You gotta put those chances in. We didn't and then we give up a sloppy goal down low and the last two minutes they get another one that went off of our player," said Michigan coach Red Berenson. "Our effort has to be better. Our execution has to be better, with and without the puck. Simple as that."
Freshman forward Justin Selman put Michigan (4-5-1, 2-4-1-1 CCHA) up early with his first career goal 4:38 into the first period after stealing the puck from a Notre Dame defender on the forecheck. The turnover left Selman with an open shot right at the mouth of the goal and he went upstairs on Steven Summerhays to give Michigan the 1-0 lead.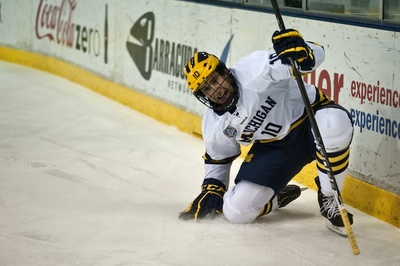 Michigan dictated the pace for most of the first and had a golden opportunity to extend its lead in the second period, but the only thing to come of back-to-back Notre Dame penalties at the 3:11 and 8:20 marks was a shorthanded goal by the Irish on Michigan's first power play.
Penalties dominated the period, with each team taking three in the second after neither taking one in the first, but the shorthanded goal was the only scoring in the frame. Neither team was penalized in the first or third periods.
Notre Dame (7-3-0, 3-1-0-0) nearly took the lead on a two-on-none after an Andrew Copp giveaway deep in the Michigan zone, but Racine fully extended on a kick save with 7:37 remaining to keep the score even at 1-1.
"I liked our start," Berenson said. "I think the shorthanded goal in the second period really turned the game in the other direction. When you get your power play guys out there and they get scored on, that's a huge goal for the road team and I thought they carried the play the rest of the second period."
Michigan will need to buck its series finale trend to muster any points against the Irish on Friday. Michigan is 0-3 in CCHA series finales so far this season.
"It's all mental. If we go up a goal or go down a goal the mindset should stay the same, just keep at it," Treais said. "There aren't that many home games left and to let up goals like that. It's in a way lucky, but I thought they outworked us today, so, good for them."
Rededication
During the first intermission of Friday's game, there will be an on-ice rededication ceremony to commemorate the reopening of Yost after the arena went under drastic renovations this summer. An expected 80 former players will be on hand for the ceremony.
Pete Cunningham covers sports for AnnArbor.com. He can be reached at petercunningham@annarbor.com. Follow him on Twitter @petcunningham.