Posted on
Thu, Nov 19, 2009 : 7:30 p.m.
Michigan-Houston Baptist basketball came about because of a mutual friend
By Michael Rothstein
They met in the hallway during the Final Four in Detroit this past April, two basketball coaches on the opposite spectrums of Division I introduced by a friend.
Joe Niland, the head coach at the University of Mobile in Alabama, is a longtime friend of Houston Baptist basketball coach Ron Cottrell and the cousin of Michigan coach John Beilein.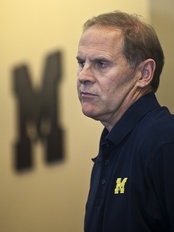 He had heard both coaches needed a game, so he facilitated a meeting. Cottrell said the initial meeting led to conversations during the summer, when both schools agreed to play each other.
"It just kind of worked out," Cottrell said.
While it's the start of a brutal schedule for Houston Baptist, including trips to Memphis and Creighton later this year, it's a warm-up game of sorts for Michigan, which plays in the Old Spice Classic next week.
"They are in a transition," Beilein said of Houston Baptist. "They are in Division I now but are independent but they are always looking for games. The great thing is that they actually bought tickets to go to the football game Saturday so they are making a nice little weekend out of it."
While Beilein didn't plan for it to be set up this way - he said he doesn't pick non-conference guarantee game teams because of styles they present but rather based on well-coached teams - it provides a stark contrast to Michigan's opener against Northern Michigan.
Northern Michigan played a lot of zone. Houston Baptist plays a not-as-intense version of the "40 Minutes of Hell" that Nolan Richardson popularized at Arkansas in the late 1980s.
"We're modifying it to some degree," Cottrell said. "We've always been a very up-tempo team, led the nation in scoring on the NAIA level for three years out of 10 and we're in the top 10 all the other years.
"I was an assistant for Nolan Richardson in the heyday there and that's our style, the way we want to play. We don't necessarily have the depth and athleticism that we need to be able to play at that level all the time, but we'll get there."
Beilein, though, is interested to see how his team handles the full- and half-court pressure the Huskies bring, as well as how Michigan's frontcourt players handle 6-foot-9 senior Mario Flaherty, who is averaging 12.7 points and 9 rebounds a game.
"They've really come at people," Beilein said. "They don't quit. They keep coming after you."
Michael Rothstein covers University of Michigan basketball for AnnArbor.com. He can be reached at (734) 623-2558, by e-mail at michaelrothstein@annarbor.com or follow along on Twitter @mikerothstein.