Nicole Elmblad has career night in Michigan's easy Big Ten women's basketball tournament win
Posted on Thu, Mar 7, 2013 : 11:11 p.m.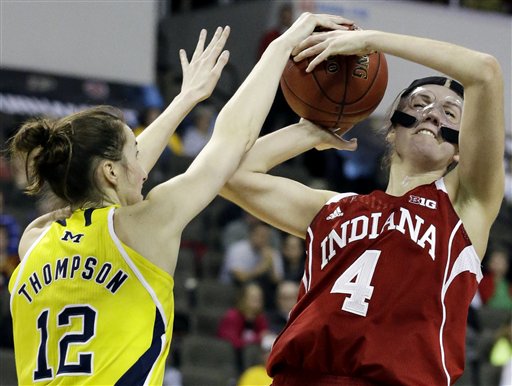 AP Photo
The Michigan women's basketball team has been a senior-led group all season. On the opening night of the Big Ten tournament, an underclassman stepped up for the Wolverines.
Sophomore guard Nicole Elmblad scored a game-high and career-best 14 points to help No. 5-seeded Michigan cruise to a 67-40 win over No. 12 Indiana Thursday night at Sears Centre Arena in Hoffman Estates, Ill.
Michigan advances to play Michigan State in a quarterfinal at 9:25 p.m. Friday (BTN). The teams split their regular season meetings, with Michigan snapping a 12-game losing streak against the Spartans with a 70-69 win on Feb. 16.
Elmblad, who entered the game averaging 4.1 points, had never led her team in scoring. Her previous career-high was nine points, set earlier this season against both Niagara and Boston University.
The St. Ignace native nearly matched that average in the first 131 seconds of Thursday's game, making a pair of baskets in the Wolverines' 8-0 start. She finished the night 7-of-10 from the floor while matching her career-high with 10 rebounds (for her first career double-double) and dished out a career-best five assists.
"Obviously I kind of struggled a little bit this year, but ... since a couple of teams have just been sagging off of me and not playing me out deep, we've been working on cuts and places I can get open and get some shots up," Elmblad said. "That's what we've been working on in practice."
Michigan scored the game's first 12 points and led by as many as 16 in the first half. It extended the advantage to 35 points in the second half.
Michigan (21-9) typically gets the bulk of its offense from its senior class. Kate Thompson (14.9 ppg), Rachel Sheffer (12.8), Jenny Ryan (10.4), Nya Jordan (8.3) and Sam Arnold (5.4) accounted for 84 percent of the Wolverines' points during the regular season.
They contributed Thursday night, as well.
Sheffer hit 3-pointers on consecutive Michigan possessions to give the Wolverines a 55-30 lead with 10:27 remaining. She finished with 12 points, but
Earlier in the half, Thompson made her only two baskets of the game - both 3-pointers - over a two-minute stretch that saw the Wolverines increase a 31-21 halftime lead to 39-21.
Jordan had game-high totals of 13 points and six assists to go with her eight points.
Sheffer said having another scoring threat on the floor is a good thing for the Wolverines.
"We have complete confidence in (Elmblad) to shoot the ball whenever she wants," Sheffer said. "And I think once we all have the confidence to do it, we can go really far."
Jasmine McGhee led Indiana (11-19) with 12 points.

Big Ten women's basketball tournament
Thursday's results
Iowa 60, Northwestern 55
Wisconsin 58, Illinois 57
Ohio State 58, Minnesota 47
Michigan 67, Indiana 40

Friday's quarterfinals
Nebraska vs. Iowa, 12:30 p.m.
Purdue vs. Wisconsin, 2:55 p.m.
Penn State vs. Ohio State, 7 p.m.
Michigan State vs. Michigan, 9:25 p.m.

Saturday's semifinals
Nebraska-Iowa winner vs. Purdue-Wisconsin winner, 5 p.m.
Penn State -Ohio State winner vs. Michigan State-Michigan winner, 7:25 p.m.

Sunday's championship
Semifinal winners, 4 p.m.