Posted on
Sat, Apr 14, 2012 : 6:48 p.m.
Michigan lacrosse team falls to Ohio State 12-9 in "coming out" party at varsity level
By Michael Florek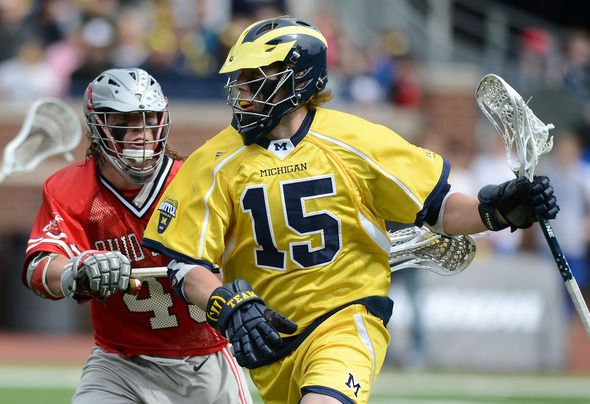 Angela J. Cesere | AnnArbor.com
Brady Hoke
had already taken his team up through the tunnel, and some of the crowd was starting to file out. It seemed like the end of the festiivites. But for the
Michigan lacrosse
team, this day, this program was just the beginning.
It ran out of the tunnel wearing navy T-shirts over their jerseys, bearing just two words: TEAM ONE.
The Wolverines are in their first year as a varsity program, and Saturday's "Battle at the Big House" — taking on Ohio State after the football team's Spring Game — was effectively their introduction to the fan base.
It was their fourth game in Michigan Stadium, but their first on the Big Ten Network. A contingent of the Michigan Marching Band took their customary spot in the northwest corner of the stadium. The residual effects of packing an estimated 20,000 in for the spring game left 4,458 people to watch Michigan fall to the Buckeyes 12-9. Michigan coach John Paul said it was about three times the amount of other games this season.
"That's what we're looking for," Paul said. "That was the purpose of doing this event. We see an opportunity to introduce a lot of Michigan fans who maybe don't know lacrosse that well to our sport."
The Wolverines fell behind 4-1 by the beginning of the second quarter. Two goals in a span of 11 seconds cut the deficit to two late in the second. In 7 seconds, Ohio State (5-7) won the faceoff, made one pass, and attack Logan Schuss fired a shot past goaltender Emil Weiss.
Schuss finished the game with a hat trick for the Buckeyes. Michigan senior Alex Vasileff matched Schuss with three goals of his own. Weiss had 12 saves.
"That's lacrosse," Paul said. "That's just what our sport is. It's and up-and-down game. It's a game of runs. No lead is safe, that's for sure, but you also have to answer runs with runs of your own."
Michigan brought back within two before the half, but Ohio State's three-goal run in the third put the game out of reach.
"This was our coming-out party," Vasileff said. "We wanted to leave it all out there. … Unfortunately, we didn't finish here or there."
But for the Wolverines, it was about more than the outcome. It's about starting a history. Paul said the plan was to play after the Spring Game every season.
Michigan won three straight club national championships from 2008 to 2010. Now, it's working through a 1-11 season. But for Vasileff, there's no looking back. It's about Team One leaving a foundation for years to come.
"It's probably the biggest thing I've ever been a part of," Vasileff said. "This is our legacy. We would have liked our legacy to be the first team to beat Ohio State, but ultimately our legacy is we work hard, we don't quit, and I think that showed today on the field.
"It's going to show for Michigan teams to come. That's what we're building here."