Crisler Arena renovations on agenda for next meeting of Michigan regents
Posted on Mon, Jan 4, 2010 : 12:25 p.m.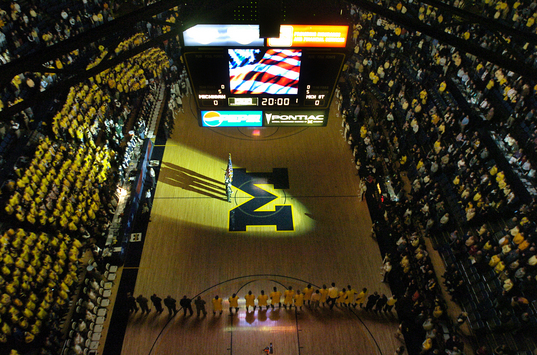 Ann Arbor News file photo
Michigan coach John Beilein said Monday he is pleased with the university taking steps toward renovating Crisler Arena. 
"We need to give our people the best arena possible," Beilein said. "And no question we are on our way."
Athletic department officials will recommend to the university's Board of Regents that it approve plans to begin the first phase of renovations at Crisler, according to the Detroit Free Press.
The regents meet on Jan. 21.
The plans come after the school announced in September the building of a $23.2 million player development center that will contain practice facilities and men's and women's basketball offices.
The renovation of Crisler is the last piece of a complete facilities overhaul the university has gone under in recent years, including an upgrade of Michigan Stadium.
In the past 12 years, the school has upgraded the playing court, the locker rooms and training facility at the 13,751-seat arena, as well as built a production studio. In 1998, Crisler added a video replay system and the large overhead scoreboard sitting above midcourt.
If approved, the project will begin in 2011, cost almost $20 million and the first portion of the renovation would deal with plumbing, heating, the Crisler roof, the replacement of lower bowl seats and aisle realignment, according to the Free Press.
Michigan administrators traveled to Kansas when the Wolverines played there on Dec. 19 to tour the facility and pick up ideas on what they'd like to see.
"I agree with the idea," Beilein said. "I want them to do everything they can to move with Crisler."