Posted on
Sat, Sep 18, 2010 : 6:29 p.m.
Michigan nose tackle Mike Martin breaks free, Rich Rodriguez makes a special trip and more
By Jeff Arnold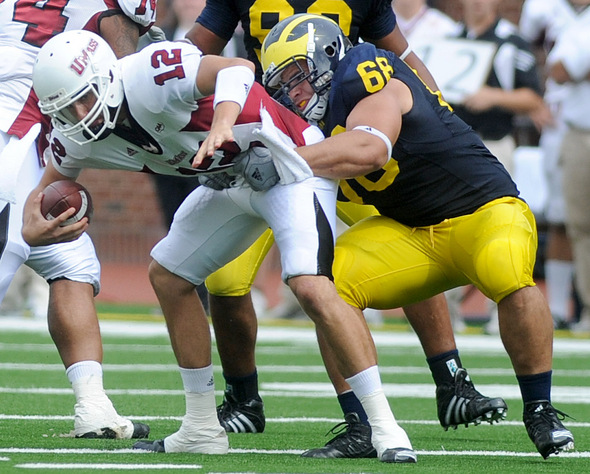 Angela J. Cesere | AnnArbor.com
Outside of practice, there aren't a lot of occasions when Mike Martin doesn't see a double-team.
That trend continued during Saturday's 42-37 win over Massachusetts, when the junior nose tackle continued to attract plenty of attention. Despite that, Martin made six tackles and registered Michigan's only sack of the day against Minuteman quarterback Kyle Havens.
The sack, the fifth of Martin's career, displayed the 299-pound lineman's ability to shed offensive linemen and get to the quarterback, which, given his position, is always a welcomed sight.
"At nose tackle, you don't get a lot of chances to get free and get a 1-on-1," Martin said. "Coach talks about hitting the rock and when the rock breaks, it's not the hit that made it break, it's the 99 prior hits that made it break."
Breaking it down
Michigan coach Rich Rodriguez said he will spend plenty of time watching film, trying to see where breakdowns in all three aspects of the game took place. While much of the disappointments took place defensively, Rodriguez said he will evaluate special teams and the Wolverines' offense as well.
But he won't do it Saturday night. After Michigan's third straight win, Rodriguez said he will leave his football business until Sunday.
"I'll have a smile on my face and I'll go home and hug the wife and kids and watch someone else have misery tonight," Rodriguez said.
Special trip
Rodriguez made a rare trip into the visitor's locker room after Saturday's game. He said he made a point of seeking out Minutemen coach Kevin Morris to commend him on his team's play.
"You've got to give them credit. They came to play and they came to coach," Rodriguez said. "They did a terrific job and so (the closeness of the game) wasn't all of our doing. It was some of their doing, too. They've got some guys that looked pretty good and played pretty good."
Saying goodbye
Freshman Davion Rogers left the Michigan program this week after the linebacker/defensive end experienced NCAA Clearinghouse issues. He is the third player to leave the Wolverines in the past week after safety Vlad Emilien and defensive lineman Anthony LaLota decided they would transfer elsewhere.
This and that
Junior wide receiver Junior Hemingway saw his first action of the season, catching one pass for 36 yards. He missed the first two games with a hamstring injury. ... Among the notable Michigan players who have yet to take a snap this season are redshirt freshman running back Fitzgerald Toussaint, who is still recovering from an ankle injury, running back Michael Cox and quarterback Tate Forcier. The latter two have been healthy scratches in the first three games. ... Walk-on wide receiver Doug Rogan, who is from Grass Lake and is majoring in aerospace engineering, started at holder. ... Among those in attendance Saturday were representatives from the Citrus Bowl, which helps put on the Champs Sports Bowl and Capital One Bowl. ... Rodriguez indicated defensive lineman Greg Banks, who left the game in the second half, was not seriously injured.
Jeff Arnold covers sports for AnnArbor.com and can be reached at (734) 623-2554 or by e-mail at jeffarnold@annarbor.com. Follow him on Twitter @jeffreyparnold.