Posted on
Sat, Feb 6, 2010 : 10:18 p.m.
Michigan officials use Camp Randall Hockey Classic to prepare for Big House outdoor game
By Jeff Arnold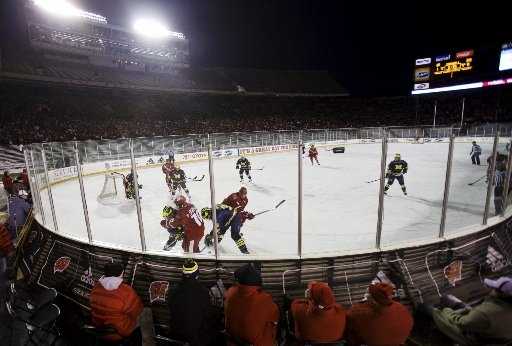 MADISON, Wis. - When it comes to hosting an outdoor college hockey game, there's plenty of details to cover.
There are sight lines to envision, rink construction and ice maintenance. That's before Mother Nature is brought into the equation.
So eight months before the Michigan associate athletic director Mike Stevenson helps bring The Big Chill at The Big House to Ann Arbor, he spent this weekend doing his homework.
He was part of a university team that traveled to Wisconsin's Camp Randall Stadium to construct a plan for when Michigan hosts rival Michigan State on Dec. 11 at Michigan Stadium.
As Michigan's hockey team practiced Friday on a $400,000 temporary rink, Stevenson and his team prepared for the job they'll face later this year.
Stevenson said Michigan officials will closely follow the plan Wisconsin used for Saturday's Camp Randall Classic game against Michigan, which drew more than 50,000 fans. Although Michigan Stadium's flatter surface won't cause as many rink issues, there will be plenty of work ahead.
"We're just pleased with the opportunity to come up here and pick their brains," Stevenson said Saturday. "But we're just really excited. ... You talk to Red (Berenson) and outdoor hockey is what they grew up playing. So it's like going back to the past."
Wisconsin officials estimate hosting two games Saturday cost about $600,000. Outside of the rink construction, Wisconsin associate athletic director Tim Wise estimates the school spent $150,000 to cover security costs and between $20,000 and $30,000 for snow removal.
It's details like that Stevenson and his associates will ponder as they plan next winter's game. They'll speak with Wisconsin officials in the next two weeks to better formulate a plan after Wisconsin takes another look at the event after it's over. As part of the two-day trip, Michigan athletic department representatives met with Wisconsin ticket and marketing officials, getting an idea of what they'll need to do as the Michigan Stadium game draws closer.
Stevenson said that all of Michigan Stadium's capacity will be available for the game, and the Wolverines hope to draw a record crowd for the event. 
Saturday night's game temperature was 21 degrees with a biting wind forcing fans to bundle up.
"We're clearly going out there to try to get 100,000 folks in the stadium," Stevenson said. "Hopefully, we'll get a day in the upper 30s where it's not too bad out there. But that's the biggest worry - is it going to be 60 and rain or are we going to have a big snow event? Those are the worries I have."
Jeff Arnold covers Michigan hockey for AnnArbor.com. He can be reached at jeffarnold@annarbor.com or 734-623-2554. Follow him at Twitter @jeffreyparnold.