Posted on
Sun, Feb 17, 2013 : 5:30 a.m.
Olympics without wrestling unfathomable to Ann Arbor's Olympic hopefuls
By Pete Cunningham
On the walls surrounding the University of Michigan's Bahna Wrestling Center are plaques and pictures honoring Big Ten champions, All-Americans and NCAA national champions. They serve as reminders to the wrestlers on the mats below of what they are striving to become and honoring those who came before them.
On the building's western wall there is similar decoration that which need no introduction: the Olympic rings
It's a symbol of wrestling's ultimate stage.
But for the first time in more than a century, that may soon not be so.
The International Olympic Committee voted on Tuesday to eliminate wrestling from the 2020 Olympics. The 2020 Olympics would be just the second Olympics since 1896 not to include wrestling.
Joseph Tobianski | AnnArbor.com
"I was shocked when I got the news and from there my mind went to 'How could this be possible?' What kind of things could have led to this kind of recommendation?" said Michigan assistant coach Sean Bormet.
Bormet was on the coaching staff of the 2008 United States Olympic freestyle wrestling team and is thought of as one of the best coaches of international style wrestling in the country. When Bahna was designated a USA Wrestling regional training center Bormet and several world-class wrestlers under his tutelage soon followed.
Bormet said he hasn't let himself think about the possibility of the next generation of wrestler not being able to strive for what has forever been the pinnacle of the sport.
"I haven't even let my mind go in that direction," said Bormet, who advised the aspiring Olympians who train at Bahna to do the same.
One of those athletes is two-time NCAA champion Kellen Russell, who graduated from Michigan last year. Bahna is still home base for Russell as he trains to be a member of the 2016 U.S. Olympic team as a member of Cliff Keen Wrestling Club. The IOC's decision would directly effect how Russell hopes to spend his time after 2016.
"I'm young enough to where I could train for 2020. In my mind right now, after 2016, if I'm healthy I could prepare for another cycle so it's definitely affected me," Russell said.
Russell's worried about how wrestling's exclusion from the Olympics might affect youth wrestling across the country.
"That'd be a real bummer right now if I were in high school right now and thinking 'You know I might not be ready for 2016 but 2020 I might give it a shot,'" Russell said. "Growing up, that's who you idolize is (who is) going to the Olympics."
Jake Herbert - who competed in the 2012 Olympics and trains at Bahna with Cliff Keen - said he was shocked and disgusted when the news reached him.
"To go from an Olympic hopeful to an Olympian, when I made that team, there's nothing like that feeling…It's like the greatest thing of my life, one of my greatest accomplishments and a huge accomplishment to have," Herbert said. "It's just astounding that kids won't have that to look forward to if it goes through."
Michigan freshman Taylor Massa was the top recruit in the country last year and his decision to come to Michigan was so that he could best prepare to one day represent it.
"To think that you've been training that much and then something that you have absolutely no control over could come and take it away or you're not even going to get that shot, that's a scary thought," Massa said. "I like to try and stay positive and just not think about it too much."
The IOC's vote wasn't a death penalty for wrestling, though. Even if the uproar worldwide since the decision was announced doesn't affect the IOC's final decision, there is still a way for wrestling to be added back to the 2020 program.
Wrestling will be on the list of potential sports added to the program along with baseball and softball, karate, squash, roller sports, sport climbing, wakeboarding and wushu.
Grass roots projects are popping up worldwide to campaign for wrestling to be included again.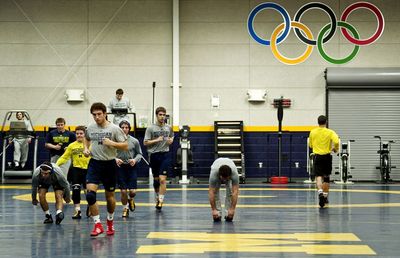 Joseph Tobianski | AnnArbor.com
"The world's listening right now and they're really paying attention to wrestling and it's really an opportunity for us to work in a productive and analytical way and showcase our sport and why it belongs in the Olympic games," Bormet said.
The IOC executive board will meet in May in St. Petersburg, Russia, to decide which sport or sports to propose for 2020 inclusion. The final vote will be made at the IOC session, or general assembly, in September in Buenos Aires, Argentina.
"We're just creating more awareness we're raising more funds and we're getting ready to do what it takes to show the IOC with presentations (why wrestling should be included)," Herbert said. "It should be an easy decision. Baseball, softball poses a threat, but we got the numbers over all those things, so I think logically we should be back in."
Michigan head coach Joe McFarland and Bormet hope a positive can be spun out of this by getting some of the more confusing rules of wrestling added over the past decade or so changed.
"It's become a tough sport, in some sense, for fans to be able to follow," McFarland said.
"Fans like a simpler set of rules," Bormet said.
-- The Associated Press contributed to this story.
Pete Cunningham covers sports for AnnArbor.com. e can be reached at petercunningham@annarbor.com. Follow him on Twitter @petcunningham.