Posted on
Wed, Dec 9, 2009 : 4:27 p.m.
Michigan punter Zoltan Mesko looking to cap career with Ray Guy Award
By Dave Birkett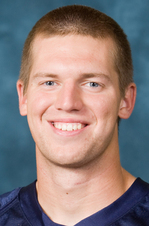 Zoltan Mesko
is a perfectionist and the last person you'll find admiring his own work. But even he had to admit, in his own begrudging way, he had a pretty good year punting for the
Michigan football team
.
"I was pleased, but at the same time not completely satisfied because there's always room for improvement," Mesko said. "It's kind of like the game of golf. You're playing a game against yourself and you can never beat yourself. You always expect the perfect punt every time.
"But I would say this season I had more games than ever before where I looked back at it and I was like, 'I'll take that game. I'm satisfied with that.'"
Mesko averaged 44.5 yards per punt this year, a Michigan single-season record. He was named all-Big Ten and voted a team captain (the first Wolverine specialist so honored), and today he'll find out if he wins the Ray Guy Award given annually to the nation's top punter.
One of 3 finalists along with Georgia's Drew Butler and Florida's Chas Henry, Mesko downplayed his chances of winning the award.
"If I was going to win this award it would be for kind of a career achievement," he said. "I don't think I've had the best single season out of the 3 of us."
Statistically, no.
Butler leads the nation in punting with an astounding 48.8-yard average, and Henry, who averages 43.4 yards per kick, has seen opponents return just 5 of his 33 punts for a total of 21 yards.
But Mesko has separated himself as a distinguished scholar - he was named to ESPN The Magazine's Academic All-American Team - and with his well-chronicled journey to Michigan.
He grew up in Timisoara, Romania, during the country's revolution - as a 3-year-old, he spent Christmas Eve lying on the floor of his family's apartment with stray bullets flying overhead - and immigrated to America along with his parents and 6 suitcases of belongings at age 11.
After a 6-month stay in New York City, the Meskos moved to the Cleveland suburb of Twinsburg, Ohio. There, Mesko's parents did odd jobs - his father assembled key locks, his mother worked in the coat room of the Cleveland Athletic Club - before eventually finding work to their chosen profession of engineering.
A soccer player in Romania, Zoltan tried football as a freshman in high school after he saw "way more people in the stands on Friday nights." By the time his first season was finished, his high school coach told him he'd be good enough to earn a scholarship if he kept kicking, and 3 years later he did.
Last week at Michigan's annual football bust, Mesko laughed at the thought of that - "Only in America can a person get a scholarship for kicking a ball in the air," he said - and choked back tears during his senior speech when talking about his parents.
"Quite possibly the best parents on the face of this planet," he said. "And I'm not just saying that to get some money out of them later. They were selfless enough to sacrifice almost everything they had worked for in Romania to fly across the Atlantic Ocean and give me a better chance at being successful in life."
Mesko's mother, Elisabeth, said she cried at the speech "all the time home to Ohio."
"It was so touching," she said. "He's a very good son for us. And he appreciates everything that he gets."
That includes the degree in business he graduated with last spring - he'll take 18 credits next semester to complete his master's in sports management - the opportunity to play in the Senior Bowl next month, and, of course, being a finalist for the Ray Guy Award today.
"I'm just humbled that I'm there," Mesko said. "I told myself that I want to be at the Home Depot Awards Show my freshman year. That's my goal, just to be, I guess, recognized as one of the top 3. And if I don't win it, at least I'm going to my college career grave satisfied. Satisfied that I gave it all because there's nothing else I could have done."
Dave Birkett covers University of Michigan football for AnnArbor.com. He can be reached by phone at 734-623-2552 or by e-mail at davidbirkett@annarbor.com. Follow him on Twitter @davebirkett.