Posted on
Thu, Feb 25, 2010 : 11:04 p.m.
Michigan reserve goalie Shawn Hunwick plays key role in 4-0 win over Notre Dame
By Jeff Arnold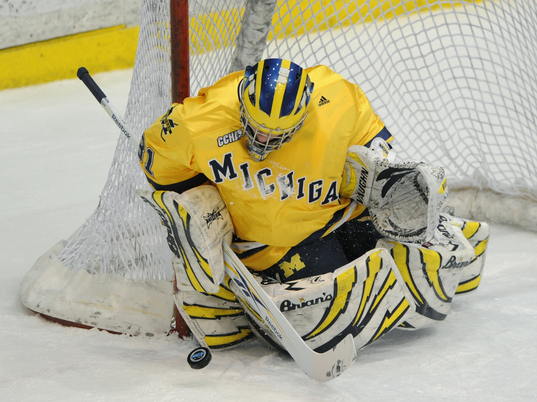 Shawn Hunwick
may not yet be ready for a role as a Prime Time regular.
But when his Michigan hockey teammates needed a long fill-in performance from a back-up goalie Red Berenson often refers to as a relief pitcher, Hunwick delivered.

Hunwick made 14 saves after starter a groin injury forced starter Bryan Hogan out and Michigan's offense provided plenty of support as the Wolverines shut out Notre Dame 4-0 Thursday night in the regular-season home finale at Yost Ice Arena.
The win guaranteed the Wolverines will begin the CCHA playoffs at home. Whether Michigan hosts a first-round or quarterfinal game at Yost will be determined this weekend.
All but the top four teams in the league will begin post-season play next weekend. The semifinals and finals will be played at Joe Louis Arena in Detroit.
Post-season seedings aside, though, Michigan used solid play on both ends of the ice, using Senior Night to notch one its most clutch wins of the season.
Hunwick, who had only appeared on one other game this season prior to Thursday night, proved to be a major factor.
"I knew we needed this win," Hunwick said. "There was no opportunity to play bad."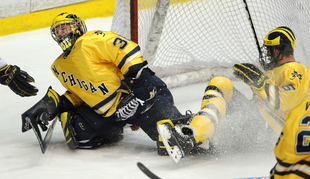 Hunwick replaced Hogan at the 10:49 mark of the first period after the veteran goalie sustained the injury and required help leaving the ice . Hogan, who has made 41 straight starts in net, is listed as doubtful for Saturday's regular-season finale at Notre Dame.
Just more than a minute after Hunwick entered the game, Chad Langlais fired a shot that hit Notre Dame goalie Mike Johnson square, but trickled through and into the back of the net.
The goal - along with a nifty glove save by Hunwick with the Irish on a 5-on-3 advantage quickly calmed his nerves. From there, Hunwick remained confident behind a stellar defensive effort, facing only 13 shots the rest of the way.
"I knew I was going to get some shots," said Hunwick, whose only other ice time this season came in a loss to RPI in the Great Lakes Invitational. "So I knew I was going to have to be ready right from the start."
Michigan (19-16-1, 14-12-1 CCHA) provided him more than enough support. After Hunwick's initial save with Notre Dame on the power play, Matt Rust scored a short-handed goal that extended Michigan's lead to 2-0 with just under 4 minutes to play in the first period.
The Wolverines, who have struggled to keep its defense as consistent as Berenson would like, kept Notre Dame from ever getting to Hunwick. The Irish (12-15-8, 12-7-2 CCHA) managed only four shots in the third period when seniors Chris Summers and Brian Lebler each registered goals to finish off the win.
"The game went our way tonight," Berenson said. "I feel good about that, we'll have to refocus on Saturday, but tonight was a good game was for Michigan.
"It was a great senior night. We've had some stinkers on senior night because there are distractions, but it was great to see the seniors on the scoreboard...and it was an important game for our team."
Michigan will try and complete the sweep in South Bend on Saturday night (7:05 p.m., Big Ten Network) and could finish as high as tied for second place with some help. The top four teams earn a first-round bye and advance to the tournament quarterfinals.
But considering what was at stake and having to play all but about 11 minutes without their starting goalie, the Wolverines produced a solid late-season effort effort they will carry into the regular-season finale against the Irish.
Yet, as gratifying as Thursday night's victory was, the Wolverines realize they can't let up against a Notre Dame team that is suddenly losing steam. A win Saturday coupled with one Northern Michigan loss against Lake Superior State would allow the Wolverines to leapfrog Northern and Alaska and into a Top-4 finish.
"We need that win (Saturday)," said Summers, who was one of five seniors honored in a post-game ceremony. "It's the last game of the season but it means a lot as far as standings. So hopefully, you get a few bounces and hopefully, the other games go according to plan.
"But we have to control what we can control."
Jeff Arnold covers Michigan hockey for AnnArbor.com. He can be reached at jeffarnold@annarbor.com or 734-623-2554. Follow him at Twitter @jeffreyparnold.