Posted on
Wed, Sep 22, 2010 : 5 p.m.
Michigan safety Jordan Kovacs is more comfortable, sees defensive improvements coming
By Jeff Arnold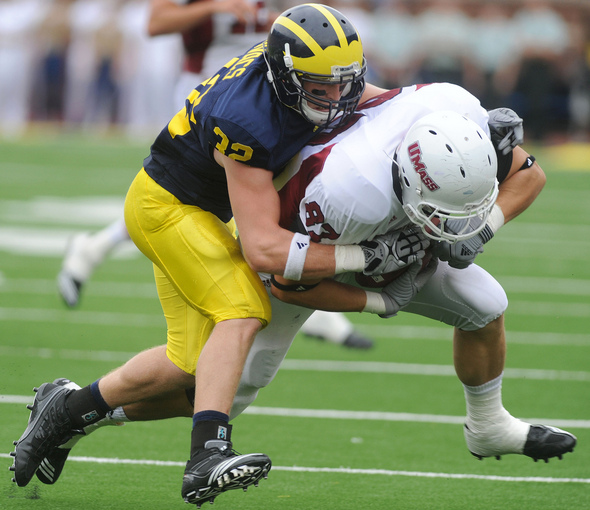 Few people were more frustrated than Jordan Kovacs after the Michigan defense was shredded for 439 yards in the Wolverines' 42-37 win over Massachusetts.
The redshirt sophomore safety made a team-high 11 tackles, but acknowledged that the Wolverines' defensive efforts fell short. As the unit strives to improve, Kovacs - a former walk-on who earned a spot on the Wolverines roster in an open tryout - has discovered a comfort level on the field and in his role as a leader.
Kovacs' 27 tackles this season ranks second behind Jonas Mouton.
Although Kovacs just earned a scholarship this year, he has earned the respect of his teammates and discovered a new-found popularity that he is still getting used to. Kovacs' ability to grasp Michigan's defensive scheme has given him more responsibility on a defense that is seeking redemption Saturday against Bowling Green (Noon, ESPN2).
Q: After such a shaky performance last weekend against UMass, where do you think the mind-set of the defense is right now?
A: Obviously, we're not satisfied with how we played defensively. We did struggle, but it's nice to get that with a win and it's nice that you get that early in the season. It's pretty clear that there are a lot of things that we need to correct.
Q: Do you write Saturday's struggles off as a fluke or do you think there are deeper issues defensively that need to be addressed?
A: I expect it to be a one-game slip-up, and we'll make the corrections we need to. I'm sure the coaches won't let that slide again, and I expect the same out of the defense. I don't think it's going to take too much (to correct). I think they're pretty simple things, and I think basically what it comes down to is some technical errors and people not understanding their assignments.
Q: Do you think some of the missed assignments and mistakes had something to do with the big plays the defense gave up against Notre Dame?
A: That could be the case where players were hesitant and maybe guys are just inexperienced and aren't feeling comfortable in their zones yet. But I expect it to change. We're a very young defense, and I expect us to get better drastically every game.
Q: For you personally, are you feeling different now as a full-time starter after you started eight games last season in your first year?
A: I definitely feel much more comfortable with my role on my team and on the defense. I see myself as more of a leader after going through everything last year. So I definitely see a change. The most important thing is that I have game experience and we still have a lot of young guys on the defense in there and they're improving every week.
Q: Coach Rodriguez has joked a lot lately about looking for a kicker in an open tryout. As someone who came out of that and won a spot on the team, what's that experience like?
A: It's amazing that Coach Rod gives those guys opportunities. I'm sure there's many more guys on campus like me who just dreamed of wearing the winged helmet. It's definitely a neat experience. Not many people think, 'Oh I could go play at Michigan,' but you never know until you try.
Q: What's that first practice like when you're trying to make a good impression on coaches?
A: My head was spinning. We have a fast-paced practice, and you don't know exactly where you're supposed to be and Coach Rod just says, 'If you don't know where you're supposed to be, just run in place.' I think I did that a few times. But when you first walk on, you want to prove yourself to the coaches and so you're going extra hard on special teams and trying to catch one of the coaches' eyes. That's what I did when I first walked on, and I try not to lose that chip on my shoulder.
Q: When they held the last student open tryout, did you watch it?
A: I just stuck around and reminisced and thought, 'That was me a year and a half ago' and it was like, look how far I've come. But I came here intending to make the football team and the first day of class we had tryouts at 6 a.m. I was nervous as heck - I was nervous I was going to over-sleep, but I made it to the tryout and I guess I caught a few of the coaches' eyes and the rest of history.
Q: Do you have any advice for any potential walk-ons?
A: Don't be late and just be yourself - you're just playing football. It's a game and just enjoy it and live in the moment.
Q: Coach Rodriguez called you one of the defense's most consistent players. Are there times when it's hard to believe you have come this far in such a short time?
A: I have to remind myself how lucky I am every day. Some days, you're going to practice and it's like, 'Oh, God, practice', but I try to stop and look around and look at the helmet I'm putting on. This is what I have dreamed of. I try to just live in the moment and not get caught up with the media (attention) but just to enjoy it. I'm playing football and I'm really enjoying it.
Q: Are you getting used to the attention that comes with being a Michigan football player or is it still a little weird?
A: It is weird because I just look at myself as just another guy and I don't really understand why people would want my autograph.
Jeff Arnold covers sports for AnnArbor.com and can be reached at (734) 623-2554 or by e-mail at jeffarnold@annarbor.com. Follow him on Twitter @jeffreyparnold.