Posted on
Sat, Oct 31, 2009 : 9:32 p.m.
Michigan football team stumbles on offense, defense in 38-13 loss to Illinois
By Dave Birkett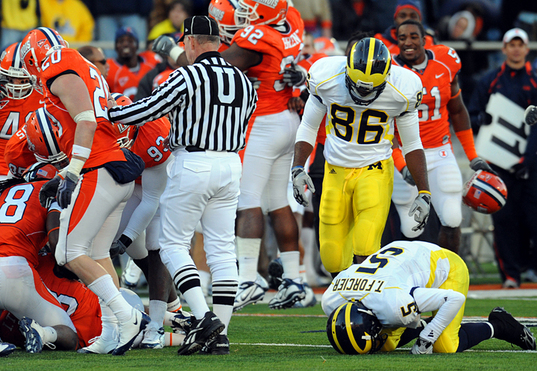 CHAMPAIGN, Ill. - Going, going, almost gone.

Michigan's sinking season took another turn for the worse Saturday as the Wolverines dropped their fourth straight Big Ten game, 38-13, to an Illinois team that had not beaten a Football Bowl Subdivision opponent in almost a year.

The defense was its usual shoddy self. Special teams weren't much better. And Michigan's once potent offense self-destructed on the goal line against the worst rushing defense in the Big Ten.
Illinois stuffed Michigan on four consecutive runs from the 1-yard line early in the second half, then scored on a 99 1/2-yard drive to begin an onslaught of 31 unanswered points.

Mikel Leshoure zipped 70 yards untouched up the middle of the field to start the seismic momentum shift that left Michigan's season in turmoil.

Michigan (5-4, 1-4) failed to qualify for a bowl for the second straight week. The Wolverines have three games left to get their magical sixth victory, and only next week's home game against Purdue looks winnable. They close the season at Wisconsin and home against Ohio State.

Rodriguez also is dealing with an NCAA investigation into allegations of improper practice time, and his biggest supporter in the athletic department, athletic director Bill Martin, is stepping aside once his replacement is found.

"We just got a lot of things to fix and get right," a subdued Rodriguez said in his post-game press conference. "Every person in the program has got to take it upon themselves to do all they can to get things playing at a high level."

Michigan didn't play anywhere near that Saturday.

The Wolverines allowed a season-high 377 yards rushing, and Illinois (2-6, 1-5) nearly had three 100-yard backs in Leshoure (21 carries, 150 yards), Jason Ford (12-128) and quarterback Juice Williams, who finished with 97 yards after taking four sacks.

Most of their damage came in the second half, after Illinois' impressive goal-line stand.

Tate Forcier found Roy Roundtree for a 76-yard pass on Michigan's opening drive of the third quarter, but Terry Hawthorne chased Roundtree down at the 1. Officials signaled that Roundtree scored, but the call was overturned on replay.

Carlos Brown was stopped on the next three plays, all runs, and Brandon Minor, who sat most of the game with an ankle injury, replaced Brown on fourth down. Minor, Michigan's power back, stumbled through the line for what was initially ruled a touchdown, but replays showed his elbow was down before he crossed the goal line.

Rodriguez said the play was "a big momentum change," and cornerback Troy Woolfolk said it deflated Michigan to the point of no return.

"We were trying to step on their throat and extend the lead," Woolfolk said. "Once that didn't happen, people just started worrying and stuff and we just let it get to us and the momentum changed down on the 1-yard line."

Michigan went three-and-out on its next two possessions, and Illinois, which was booed off the field at halftime, struck for touchdowns by Williams (a 3-yard run) and London Davis (on a 2-yard pass), plus a 23-yard Matt Eller field goal after Forcier lost a fumble deep in Illini territory.

Jason Ford capped the scoring with a 79-yard touchdown run with 1:45 to play.

"We're all frustrated because we gave it away," defensive end Brandon Graham said. "We was the better team today. Not taking anything from Illinois cause they came, they game-planned us, but we know we gave it away."

Illinois, which had not scored more than 17 points against an FBS team all year, finished with 500 yards of total offense.

Forcier was 13-of-23 passing for 257 yards, but lost two fumbles.

Junior Hemingway also muffed a punt for Michigan, which has 12 turnovers in its last three Big Ten games and fell to 1-8 in October under Rodriguez.

"We got to stop the snowball," defensive tackle Mike Martin said. "We can't let it get bigger. We got to end this right now."

Dave Birkett covers University of Michigan football for AnnArbor.com. He can be reached by phone at 734-623-2552 or by e-mail at davidbirkett@annarbor.com. Follow him on Twitter @davebirkett.