Posted on
Tue, Dec 14, 2010 : 5:26 p.m.
Michigan senior goalie Bryan Hogan expected to miss at least a month with groin injury
By Jeff Arnold
Bryan Hogan had been named the Michigan hockey team's starting goalie for one game. Nothing beyond that had been settled.
That all changed - at least for the next month - when Hogan partially tore his groin during warm-ups for last Saturday's Big Chill at the Big House, Wolverines' coach Red Berenson said Tuesday.
Michigan, which will enter the Great Lakes Invitational later this month in first place, next plays Dec. 29 against Michigan Tech at Joe Louis Arena in Detroit. The Wolverines' next CCHA weekend series comes Jan. 7 and 8 against Michigan State.
Hogan suffered a similar injury - only on the other side - last year, opening the door for Shawn Hunwick, who went on to help lead Michigan to its 20th straight NCAA appearance. Hunwick made 34 saves in the Wolverines' 5-0 outdoor win against the Spartans.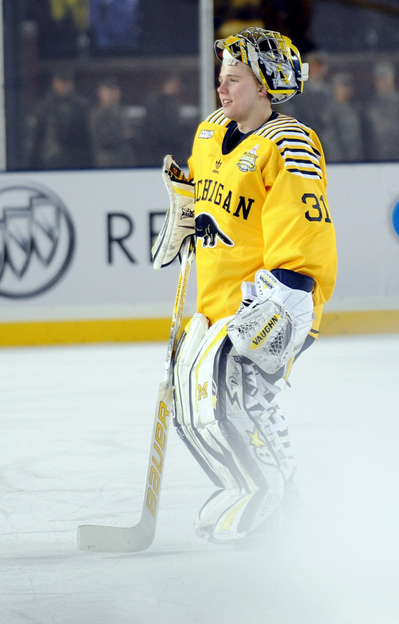 Lon Horwedel | AnnArbor.com
"Totally out of the blue - it's crazy," Berenson said of Hogan's injury on Tuesday. "Last year, (the injury) was near the end of the year and he had played every game and so maybe it was fatigue. This year, maybe you could say he wasn't warmed up to pull a groin, but we had been practicing everyday outside and he hadn't had any issue all week.
"But he made one move and he could just feel it."
Berenson said Hogan partially tore a tendon or muscle in his groin, but that it has nothing to do with the injury Hogan suffered last year.
Berenson named Hogan the starter for the Big Chill two days earlier, but said Hunwick wasn't out of the loop for the long term starting job. Hogan is 7-2 this season while Hunwick was 2-3-4 before Saturday's start. Berenson said Tuesday Hunwick "just didn't have the numbers" Hogan did prior to the Big Chill, but that his performance against the Spartans should boost the former walk-on's confidence heading into two starts in Detroit.
The Wolverines (10-5-4, 9-3-1 CCHA) would play either Michigan State or Colorado College in the GLI championship game with a win over Michigan Tech.
Berenson said Hogan will be evaluated on a week-to-week basis once he makes enough progress to consider returning to the line-up. For Hunwick, the chance to move into a starting role is an opportunity he didn't see coming.
When asked if it changed the way he will prepare for the GLI or the second half, Hunwick said Saturday he hadn't thought thought that far ahead.
"It's kind of last year the first game I played and I got that shutout (against Notre Dame) and I didn't realize that Hogie could be injured for long-term," Hunwick said.
"I think (getting a win in the Big Chill) is huge..Having three wins after the first half after 10 games still isn't good enough and this is a huge win. So hopefully, this propels me to a better second half."
Notes: Hunwick and freshman defenseman Jon Merrill were named the CCHA's goalie and freshman of the week, respectively. Hunwick registered his third win of the season with the 34 saves against Michigan State while Merrill scored on his first two shots to stake the Wolverines to a 2-0 lead. Merill, who is third on Michigan's roster in scoring with 13 points, also registered his first-game winning goal of his career. Merrill will travel to Buffalo, N.Y., later this week to try out for the United States World Junior team.
Jeff Arnold covers Michigan hockey for AnnArbor.com and can be reached at (734) 623-2554 or by e-mail at jeffarnold@annarbor.com. Follow him on Twitter @jeffreyparnold.