Posted on
Fri, Dec 18, 2009 : 11:39 a.m.
Michigan sheds early-season expectations and focuses on turning things around
By Jeff Arnold
John Beilein has mixed feelings about early-season rankings.
The spotlight that accompanies a top 25 mention is flattering. But being placed among the country's college basketball elite so early on carries little weight.
So after the Michigan men's basketball team plummeted from its preseason spot at No. 15 with a 3-game losing streak, Beilein didn't worry, reminding a team coming off its first NCAA Tournament appearance in 11 years to remain focused on the big picture.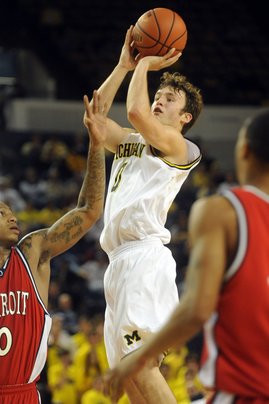 Melanie Maxwell | AnnArbor.com
As was the case last season, Beilein's past experience lent itself to a teaching moment.
During the 2005-06 season, Beilein's West Virginia team entered the season ranked No. 14 after reaching the Elite Eight the year before. After winning their first two games, the Mountaineers lost three straight, falling off the charts. By the end of the season, Beilein's team rebounded, advancing to the Sweet 16 before losing to Texas.
It's a lesson he passes on to a Michigan team that has hovered around .500 for the past month heading into Saturday's difficult road test at top-ranked Kansas (12 p.m., ESPN).
"The expectations (at West Virginia) were high, we lost three in a row and the expectations went away," Beilein recalled on Wednesday. "But we came back at the end."
The Wolverines are in search of a comeback with two non-conference games remaining before the Big Ten season opens Dec. 31 at Indiana. Unlike last year, when Michigan entered league play with wins over a pair of Top-5 teams in UCLA and Duke, the Wolverines are struggling to find an identity as they prepare to face the undefeated Jayhawks at Allen Fieldhouse.
As he has in the past, Beilein won't allow what was expected from his team prior to the season to define where it is now.
"I don't think they've struggled with expectations - it wasn't like, 'Oh, we're expected to do so much - how do we handle the pressure?," Beilein said. "I just think the expectations were too high and now reality has set in. ... But we can still be a good team."
Saturday's trip to Lawrence again places the Wolverines in the national spotlight. Although Kansas has won by an average of almost 33 points per game, Beilein's players realize a solid showing on the road in a tough environment could help restore confidence lost over the past month.
"(The game) has to bring the best out of you," sophomore guard Zack Novak said. "You know you're going to have to play a really good game.
"It will give us an opportunity to see where we're at right now, but you don't get many opportunities to play the No. 1 team in the country, and so we have to go in and make the most of it."
Novak said Michigan's youth and inexperience has been exhibited in the early stages of the season. Only upperclassmen Manny Harris and DeShawn Sims are scoring in double figures as an offense predicated greatly on perimeter shooting has failed to produce with a collection of young shooters.
In addition to struggling with 3-point shooting (29.7 percent), the Wolverines have also struggled defensively as their opponents have shot 44 percent from the field. On Saturday, the Wolverines face Kansas, which is shooting 51.2 percent from the field and 44 percent from 3-point range.
So rather than focus on what was expected, the Wolverines must deal with the way things are. The Wolverines will revert back to a year ago when they spent much of the year considered underdogs.
It's a tag Michigan certainly carries with it to Kansas on Saturday.
"I think that's kind of our identity as a team," Novak said. "Last year, we were that team that was going to shock everybody. Going into this game, it fits our persona and I think that will be good for us. We'll be ready."
Jeff Arnold covers sports for AnnArbor.com. He can be reached at jeffarnold@annarbor.com or 734-623-2554.Follow him on Twitter @jeffreyparnold.