Posted on
Fri, May 3, 2013 : 10:27 p.m.
Michigan softball clinches sixth straight Big Ten title with win over Northwestern
By Pete Cunningham
Michigan pitcher Sara Driesenga stepped out of her circle and picked up some dirt with her pitching hand, and crushed it between her fingers. As she stepped back in the circle she took the ball and slammed it into her glove emphatically.
After giving up a leadoff walk to start the seventh inning, the game-tying run Northwestern needed was only three bases away, and the Wolverines were still three outs away from claiming a Big Ten title.
Driesenga wasn't happy, and it was evident from the look on her face. But once the dirt left her hand and the ball smacked the leather, she was over it.
Driesenga struck two of the next three batters out looking -- with a ground out in between -- and the celebration was on as Michigan softball team clinched the program's 16th Big ten title with 2-1 win at Alumni Field.
"I just let that one get away from me a little bit," Driesenga said of the leadoff walk.
It was Michigan's sixth straight conference title, the most consecutive in program history.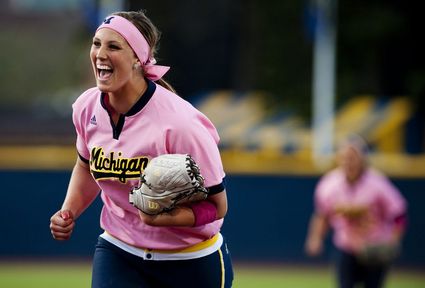 Daniel Brenner | AnnArbor.com
"Each one is separate from the last one. Everyone talks about six in a row, but really we just focus on the one," Driesenga said.
Driesenga said after her moment behind the circle, she was ready to get the job done.
"I was just letting that go and focusing on letting that go and focusing on that next pitch and getting that next batter," Driesenga said.
Driesenga allowed one run on two hits while striking out eight with four walks.
"Sara really gave us a great game and gave us a lot of confidence and that's really what the pitcher's supposed to do," said Michigan coach Carol "Hutch" Hutchins.
Driesenga's contributions didn't just come from the pitcher's circle. She scored what ended up being the game-winning run in the bottom of the fifth after hitting a leadoff double to start the inning. Nicole Sappingfield drove her in with a single to left field.
"I just love doing all that I can to win as a team and that's all that I try to do is try to go out there and give everything that I have so that Michigan can win," Driesenga said.
Lyndsay Doyle scored Michigan's only other run in the fourth inning off of a Sierra Romero double. The Wolverines were unable to add to the lead after Romero was picked off on the basepaths later in the frame and Northwestern tied the score in the top of the next inning.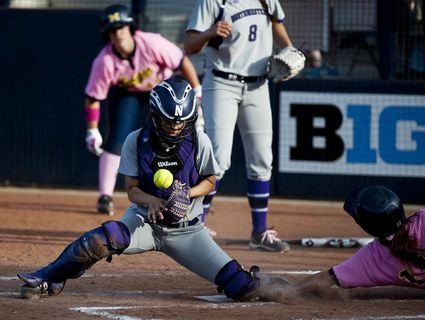 Daniel Brenner | AnnArbor.com
No. 10 Michigan (42-9, 18-2 Big Ten) also failed to add to its lead in the fifth inning despite loading the bases with just one out after. The Wildcats (30-19, 12-8) got a double play after the Wolverines had a popup followed by a play at the plate. Hutchins vehemently argued the call to no avail.
"You're not allowed to stand in front of the plate until you have the ball, and I thought it was an obstruction call," Hutchins said. "And honestly it was a miscommunication between me and my runner. She shouldn't have gone, and that was my fault."
Michigan had seven hits and reached base on three more walks, but was never able to translate it into runs as Northwestern pitcher Amy Letourneau found a way to get outs.
"She's a good pitcher. She strikes out more than one per inning which is a pretty good ratio, and she typically walks a lot, but she didn't walk very many today," Hutchins said. "Northwestern's a tough team. They never go away, they just fight and claw."
By the time the final strike was called, Hutchins was well over the argument at the plate or missed opportunities to score and ready to celebrate with her team and fans. She pumped her fist to the crowd and was met with a standing ovation after the postgame handshake.
Hutchins preaches taking everything one pitch at a time, but she's not opposed to celebrating a championship.
"It's a culmination of one pitch at a time," Hutchins said of the winning the championship. "I was proud of the kids. It was a tough game against a tough opponent,"
The series will resume at Alumni Field on Saturday (1 p.m., BTN) and conclude on Sunday (noon, BTN).
Pretty in pink
Friday was Michigan's annual "Pink Game" which, in collaboration with its Softball Academy on Thursday, was used as a platform to raise funds and awareness for the making Strides against Brest Cancer organization. Players wore pink jerseys and the academy's top fundraiser threw out the first pitch. The fundraiser raised more than $78,000.
Pete Cunningham covers sports for AnnArbor.com. He can be reached at petercunningham@annarbor.com. Follow him on Twitter @petcunningham.