Posted on
Thu, Apr 22, 2010 : 3:06 p.m.
Michigan softball has found a comparison and a contemporary in Connecticut women's basketball
By Michael Rothstein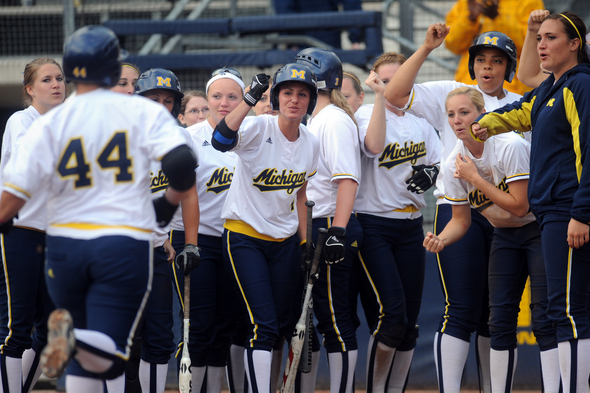 Melanie Maxwell | AnnArbor.com
It started as a joke. Michigan's softball players wanted to watch the men's NCAA basketball tournament. Their coach, Carol Hutchins, and her staff wanted to watch the women's tournament.
On the bus during a road trip to start the season they reached a compromise - Connecticut.
"So we were on the bus watching women's basketball and we were like 'OK, can we change the channel,'" junior first baseman Dorian Shaw said. "But when you're watching UConn, it's like they have no gender. They are just playing basketball. They are just doing things that you just don't believe anybody will be able to do.
"When we are watching them, it's fine."
In watching UConn, Michigan also found something else - a comparison.
"It did come out of the fact that we were following it during the NCAA tournament about the time we were exploding," Hutchins said. "We just said 'Hey, what makes them?' We kind of analyzed them one day and the kids pointed out, I said they play well together.
"They analyzed that they play hard every game and that's why they were able to dominate so many people because they don't let up whether they are playing a good team or a bad team. Even at the end of the tournament, they had a tight game with Baylor. It got to be tight and then 'Boom.'"
Connecticut's women's basketball team has won 78 games in a row - just one by less than double digits. They haven't lost in more than two seasons.
So far, Michigan's softball team - 35-5 and No. 2 in the country - currently has been close to Connecticut levels. Behind pitchers Nikki Nemitz and Jordan Taylor, they have six shutouts in their last seven games. They have won 9 of their last 12 games by the eight-run mercy rule. The Wolverines haven't lost since March 20 and are 28-1 in March and April.
As of Monday, Michigan was in the Top 5 nationally in scoring (fifth at 7.29 runs per game) and earned run average (fourth 1.46). After two 8-0 shutouts against Penn State on Wednesday, those Connecticut-like numbers will be even better.
"I don't think it puts any more pressure on us," Shaw said. "It's a novel idea of theirs."
The UConn comparison helped Michigan stay focused. Hutchins preaches about the "process" - how to approach teams and games - rather than wins.
And her team bought it.
"It's not too tough," sophomore outfielder Bree Evans said. "Sometimes we really have to think about it but we're pretty focused on it and we know it and we have it stuck in our head right now.
"I don't think it's really, more toward the beginning of the year we were struggling with it but now it's just in our heads."
The belief came during a trip to Fullerton, Calif. during the middle of March during the traditionally-tough Judi Garman Classic.
On the second day, Michigan faced UNLV. The Wolverines trailed 13-8 after four innings. They appeared headed to a loss.
Except something changed. Michigan focused. They verbally committed to winning the game. They won 14-13 behind a five-run fifth inning and it started the Wolverines current ascent.
"We made a decision and that's when we realized it was different. We just decided. That's something that we've done," Shaw said. "At the beginning of the year we decided we wanted to go to the World Series. We decided we wanted to win a Big Ten championship.
"… So that UNLV game, when we decided we were going to win that game and did what we said we were going to do, that was our turning point. We kind of knew, there is no reason we can't beat anybody."
This attitude -- described by pitching coach Jen Brundage as "relentless" - is what Connecticut has. Thinking like that is something she has tried to impart onto her players.
She has. Taylor said the second perfect game of her career on Wednesday was, in part, due to how she approached hitters aggressively. At the plate, Michigan's batters don't worry because everyone in their lineup can hit.
It even led Hutchins, who has coached Michigan for 26 seasons, to say what is happening with this year's Wolverines now is unlike anything she's experienced before.
Yet if her team gets too confident, all she has to do is point to the basketball tournament her players prefer - the men's tournament.
"We knew we had talent and we knew we had good pitching," Hutchins said. "Watching them jell together here, I've had a lot of special teams. This isn't the only one, this isn't the second one. I've had a lot of special teams. You get kids who come to Michigan, who really play for Michigan.
"So for them to get, we can't get too caught up in a national championship. That's a long way off, that's the end of a process. Play hard, play hard, because you've got to get there. I don't care how good you are. Did you see Kansas making it? Did you see anybody making it? Right. So you've got to stay in your process."
Do that and Michigan has a shot to do what Connecticut did earlier this month - finish its dominance with a national title.
Michael Rothstein covers University of Michigan sports for AnnArbor.com. He can be reached at (734) 623-2558, by e-mail at michaelrothstein@annarbor.com or follow along on Twitter @mikerothstein.